Vegetarian Main Courses
A range of vegetarian main course dishes. Many also suitable as snacks and starters when the quantity is adjusted accordingly.
Quorn Casserole
Easy quorn casserole. ..
Quorn Chicken Style Pieces Tetrazzini
Relatively easy quorn dish that works well, I usually serve with a bed of brown rice. ..
Quorn Chili Con Carne
Very simple chilli recipe using Quorn as the meat substitute. ..
Quorn Cottage Pie
Really just a simple cottage pie recipe that substitutes the quorn mince for the mince meat. Works well. Serve with one or two portions of plainly cooked vegetables; broccoli, cauliflower, etc. ..
Quorn Lasagne
A perfect vegetarian recipe for quorn mince. You'd never know you were not eating a traditional lasagne. ..
Quorn Samosas
Do you miss those little Samosas. Try a pretty good veggie samosa recipie. ..
Quorn Semur Daging
The smooth combination of clove, nutmeg and cinnamon gives this dish a really distinctive Malaysian flavour. Serve with boiled rice. ..
Quorn Tikka Masala
The ever popular Tikka Masala using Quorn pieces to make this a wonderful veggie recipe. ..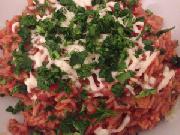 Red wine risotto
Full-bodied red wine perfectly complements the tomato sauce providing a tasty yet unusual dish. This super simple recipe demonstrates that there is more to risotto than mushrooms and white wine – and is ready in no time with ingredients you probably ..
Roasted Aubergine and Garlic Over Linguine
A wonderful use of Aubergines / Egg plant. ..
Root vegetable rosti with mixed mushrooms
You can use any root vegetable you have to hand. Try including wild mushrooms if you can. ..
Vegetarian Red Beans And Rice
A straight forward kidney bean recipe. A taste of New Orleans cooking. ..
Cheating Sweetcorn Pudding
Super simple recipe with a tin of sweetcorn at the heart of it. One of those recipes that got us through the student days and tight or even nonexistent budgets. ..
Sesame Noodles with Fresh Vegetables
Big portion recipe for a rather tasty sesame noodles. ..
Slow Cooker Sweet & Sour Quorn
Not a perfect sweet and sour, but about as easy and simple as you can get. Serve with rice. ..
Spaghettini With Zucchini And Rosemary
Rosemary gives this savoury pasta sauce a distinct, yet not overpowering, flavour. Garlic bread is the perfect accompaniment. ..
Spanish Rice
A very simple and reasonably healthy rice dish suitable for veggies everywhere. ..
Spinach and Feta Stuffed potatoes
Another excellent potato recipe, devised for the vegetarian palet. Yum Yum. ..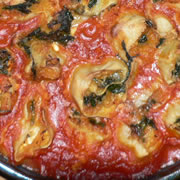 Squash & spinach pasta rotolo
A Jamie Oliver recipe, I made my own fresh pasta for this, which was a bit of a first. Marathon dish to make, but lots of kudos at the table later. Lasted us a couple of days. You get crispy bits of pasta on the top, complemented by the softer past ..
Squash Casserole
This recipe is one for squash, but we first used it when we had a surplus of pumpkin, after a pumpkin carving session with a group of kids. ..
Stir Fried Peas with Lentil Sprouts & Leeks
Easy veggie dish, serve with a little rice and any from a range of side / dipping sauces ..
Stir-fried Snow Peas and Tomatoes
Quick and simple and super tasty. ..
Stir-Fried Vegetarian Orange Beef
Moderately sweet yet tangy meatless meal. The perfect entree over rice. ..
Stuffed Green Peppers
Another works-well recipe, you can vary the ingredients and alter it to suit your tastes. Generally server with a green salad. ..
Sweet & Sour Quorn & Vegetable Stir Fry
I could eat take-away sweet and sour every day if I could afford it. And it is one of the few dishes that tempt my vegetarian choice. Few Chinese take-aways do a vegetable sweet and sour as good as their meat based sweet and sour dishes. This quorn ..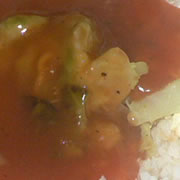 Sweet and Sour Cabbage
I'm a big lover of all sweet and sour dishes ..
Sweet Chopped Chunky Pasta
I was on my way home on Ground Hog Day and I got hungry, so I hopped off the C train at Lafayette street and hit PathMark on Flatbush for some ingredients to cook with. I had two things in mind. Hot and Sweet. I literally skipped through he isles, an ..
Sweet Potato Casserole
Rather easy sweet potato casserole, can seem a little time consuming but worth the effort, and can be got ready in advance and finished off as you need. ..
Vegetarian Saag Aloo
Saag Aloo is a delicious spicy blend of spinach and chunky potatoes, and goes very well with parathas or naan. It is very easy and inexpensive to make, and will impress the h ..
Vegetarian Savoury Pie
A nice solid savoury pie recipe for vegetarians, something to base other vegetables around. ..