Vegetable based main courses
The core of any vegetarians diet .. a selection of vegetable based vegetarian recipes. The tried and tested, day in - day out dishes and the more adventurous for that special evening.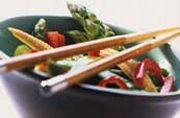 Asparagus and Vegetable Stir Fry
I think this recipe was from the British Asparagus Growers Association. We tried it and like it! ..
Asparagus Pissaladiere
A delicious tart, hot or cold, and especially good for a picnic! ..
Aubergine Casserole
Aubergine casserole, that would be Eggplant for the Americans. Works well. ..
Beetroot Casserole
Beetroot is never an obvious choice for anything other than being served pickled with a salad, but it makes for some excellent main meals, it's sweet and holds a lot of nutritional benefits. The colour is so rich too. ..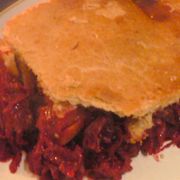 Beetroot Pie
An amazingly excellent recipe. We had a number of raw beetroot to use when we were getting organic vegetables delivered via the Riverford Organic Vegetable box scheme. Only ever having had pickled beetroot with salads and stews before, we went looki ..
Braised Cauliflower with Chilli
Braised Cauliflower with Chilli ..
Broccoli & Pasta Sauce
A broccoli dish that sounds a little fancier than it is. Nice for when you want something a little different. ..
Broccoli and Almond Risotto
Broccoli and Almond Risotto ..
Broccoli Casserole
A super simple vegetarian broccoli casserole recipe ..
Butternut Squash Casserole
When you have a butternut squash and you're looking at it, and wondering 'what the heck do I do with this?' ... ..
Cauliflower & Potato Curry
Large portion recipe for cauliflower and potato curry .. ideal for all veggies .. Serve over white or brown rice. ..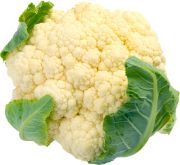 Cauliflower Au Gratin.
Cauliflower can be a love it, or hate it, vegetable. And 'Cauliflower cheese' has to be the most common recipe for cauliflower, this gratin recipe adds a more traditional twist. ..
Cauliflower Pie.
A cauliflower and potato pie recipe that goes well for Sunday dinner from time to time. We usually serve with a colourful vegetable like carrots and a jug of vegetarian gravy. ..
Cheating Sweetcorn Pudding
Super simple recipe with a tin of sweetcorn at the heart of it. One of those recipes that got us through the student days and tight or even nonexistent budgets. ..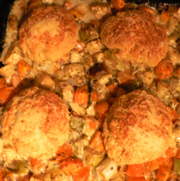 Clare's wonderful warming winter vegetable cobbler
This recipe is from Ainsley Harriott's book 'Gourmet Express 2'. When you come across one of those recipes that really tickles your taste buds, this is one of those. ..
Easy Vegetarian Lasagna
Big portion recipe for a tasty vegetarian lasagne. You can scale this one down a little, but when you're serving for greater numbers this one fits the bill. ..
Green Bean Casserole
Cheatingly simple green bean casserole, for those like me - often in a rush. Or who think they can't cook! ..
Grilled Vegetables with Balsamic Marinade
Pretty good for veggie BBQs. ..
Hungarian Cabbage Noodles
A good cabbage recipe that goes well with veggie sausages and a salad of dark green lettuce and tomatoes. ..
Kashmiri style slow cooker veggie curry
I adapted the recipe to a veggie version from a more traditional lamb recipe; the spices and other ingredients are exact to a recipe that's been passed on for generations. Tweaking it slightly here and there, this is the version that comes out fantas ..
Meatless Shepherd's Pie
Excellent meat free Shepherds pie. For a more substantial dish, you can add / substitute things like pre-cooked tofu, lentils or mushrooms. ..
Mixed Vegetable Stew with extra light dumplings
Nice, easy, straightforward vegetable stew with very light veggie dumplings. Ingredients are very fluid, just use what vegetables you have, or need using up. ..
Moroccan Vegetable Stew
Very easy, very tasty slow cooker meal. Throw it together in the morning and thoroughly enjoy in the evening. ..
Moroccan Vegetables & Chickpeas on Couscous
Think I got this recipe from my sisters diabetic cookbook, looking for something to go with the couscous. Liked this one. ..
Mushroom & Chestnut Pudding
Long winded slow cooker meal, but well worth the effort for special occaisions or a rich treat. ..
Mushroom Monegasque
Tomato and mushroom dish, served cold with crusty wholemeal bread rolls. ..
Old Mans Vegetable Pie
I have no idea why it is called 'Old Mans' Vegetable pie. Its what my granny called it, she used to make it from time in a big dish, if she had a few of us to feed, me and my cousins. I'm glad I got her to tell me the recipe now. ..
Parsnip & Chickpea Curry
Very nice veggie curry, using all the individual spices proves far, far better than any ready to go curry sauce. ..
Potato Hash (Potty Ash)
A veggie version of the corned beef hash my mother used to make, and that remains a strong memory of my childhood. A bit longwinded, but well worth the effort, especially on cold winter days. ..
Root vegetable rosti with mixed mushrooms
You can use any root vegetable you have to hand. Try including wild mushrooms if you can. ..
| | | |
| --- | --- | --- |
| | Recipes 1 - 30 of 49 | Next |
Vegetable based vegetarian recipes