Vegetable based main courses
The core of any vegetarians diet .. a selection of vegetable based vegetarian recipes. The tried and tested, day in - day out dishes and the more adventurous for that special evening.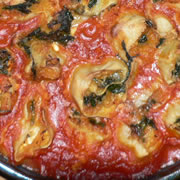 Squash & spinach pasta rotolo
A Jamie Oliver recipe, I made my own fresh pasta for this, which was a bit of a first. Marathon dish to make, but lots of kudos at the table later. Lasted us a couple of days. You get crispy bits of pasta on the top, complemented by the softer past ..
Squash Casserole
This recipe is one for squash, but we first used it when we had a surplus of pumpkin, after a pumpkin carving session with a group of kids. ..
Stir Fried Peas with Lentil Sprouts & Leeks
Easy veggie dish, serve with a little rice and any from a range of side / dipping sauces ..
Stir-fried Snow Peas and Tomatoes
Quick and simple and super tasty. ..
Stuffed Green Peppers
Another works-well recipe, you can vary the ingredients and alter it to suit your tastes. Generally server with a green salad. ..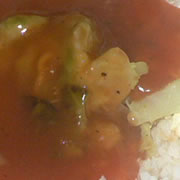 Sweet and Sour Cabbage
I'm a big lover of all sweet and sour dishes ..
Vegetable Balti
A very authentic tasting Indian Balti recipe. It did require a few spices I don't normally have in the cupboard, but they are all spices I look forward to trying again. ..
Vegetable Batter
Couldn't be simpler and couldn't taste better. Toad in the hole for a veggie heaven. ..
Vegetable Curry
For this recipe it is important to prepare everything first as cooking then becomes simple. ..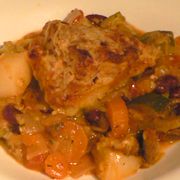 Vegetable Hot Pot with Cheese Triangles
A sort of savoury vegetable cobbler; this hot pot is topped with a simple scone mixture. The combination is taste-tastic. Use your favourite vegetables, as long as the overall weight remains the same. Some substituted vegetables may need a little lon ..
Vegetable Hotpot
Every day vegetarian hot pot recipe that has been around for a few years. ..
Vegetarian Curry
A colourful veggie curry that hits the spot, and only takes about half an hour to make all told. You can also add different vegetables or drop others according to what you've got available. You just need to keep the coconut cream handy in the cupboar ..
Vegetarian Hot Pot
An easy, straightforward vegetarian hot pot recipe. A decent main meal in its own right, and serves well with most vegetable dishes. We like it as is and have either with a good dollop of dark sauce, or with a little sliced pickled beetroot. And the ..
Vegetarian Potato hash
One of my childhood favourite dishes was potato hash, made by my mother, my grandmother and my great gran too. (Though my mums was best). Traditionally made with corned beef from the tin, potato hash is one of the childhood flavours and smells you c ..
Vegetarian Saag Aloo
Saag Aloo is a delicious spicy blend of spinach and chunky potatoes, and goes very well with parathas or naan. It is very easy and inexpensive to make, and will impress the h ..
Veggie Hungarian Goulash
A vegetarian slant on the Hungarian dish the Hungarians seem to have never heard of. Works well though, another of the favourites. ..
Wheat Germ Burgers
A good burger alternative. Little long in the making but generally worth the effort for larger numbers. ..
Yacon Curry
Yacon curry for the slow cooker. I'd grown Yacon for the first time, and come autumn had no idea what to do with it. This is the recipe that came together and is pretty good. Tame enough that the kids ate without complaint too. Yacon has a very mild ..
Zucchini Squash Casserole
I use this recipe for marrow and courgettes, and the cheese is most often just the cheddar cheese we already have in the fridge. The flavour can be a little strong for children. ..
Vegetable based vegetarian recipes