Rice based
Rice based
Asparagus Risotto
Asparagus Risotto ..
Awesome Basil Risotto
For when you've got the time and inclination to cook, this recipe can be prepared in 45 minutes or less.smrtovnice o ..
Curried Rice and Tomatoes
A bit of student veggie recipe, one for when the budget is tight. Very filling, and warming on cold nights too. ..
Indian Dosai
Dosai is a pancake-like South Indian dish. ..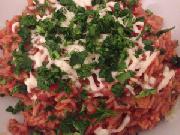 Red wine risotto
Full-bodied red wine perfectly complements the tomato sauce providing a tasty yet unusual dish. This super simple recipe demonstrates that there is more to risotto than mushrooms and white wine – and is ready in no time with ingredients you probably ..
Spanish Rice
A very simple and reasonably healthy rice dish suitable for veggies everywhere. ..
Vegetable Paella
A very filling vegetable Paella recipe. Serving immediately it is excellent, with a light salad on the side. However, it doesn't sit and wait for you too well. Don't try this one if you need it to hover on the hob while you wait for someone to arriv ..
veggie risotto
This is a nice dish, easy to make and worth the effort. ..