Pulse Based
Pulse Based
Bean and Vegetable Chili
A delicious, fast vegetarian chili thick enough to serve as a filling for burritos. ..
Big Portion Chunky Meatless Chili
Cooking for larger numbers, this is the Meatless Chili recipe I used for those odd occaisons. Often too for a baked potato topping. ..
Black Bean Chili
This recipe is amazing .. It is excellent over rice, plain with bread or over potatoes. ..
Black Bean Chili 2
Mega Mex black bean chili. ..
Black-eyed Beans with Curry Dressing
Nice use for the black-eye beans that have been in the cupboard for a while. I serve with a side salad and/or small new potatoes. ..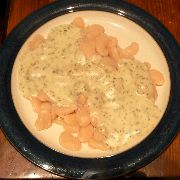 Butter Beans with Parsley Sauce
A straight forward veggie main course meal with one of my favourites; butter beans at the heart of the recipe. ..
Couscous and Lentil Casserole
Very filling, easily adaptable casserole with every vegetarians stalwart lentils. ..
Green Lentil Vegetarian Chilli
Green Lentil Chilli, mild works so well. ..
Hot and Spicy Chick Peas
Much of the Indian population is vegetarian, and they enjoy the most extensive vegetable dishes in the world. This is not only because of the predominant Hindu religion with its respect for all living creatures. Also feeding 1 billion Indian people n ..
Indian Dal
Any vegetarian lover of the Indian cuisine should always have a good and traditional Dal recipe in their repetoire .. ..
Lentil Burgers
These lentil burgers taste far better than they sound and are well worth trying. You can experiment a little by varying, adding or substuting some of the ingredients. ..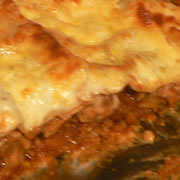 Lentil Lasagne
A very good, and relatively simple vegetarian lasagna recipe using lentils. This is one recipe the kids will eat without a single moan. ..
Lentil Moussaka II
This is from Scaravelli and Cohen's 'A Mediterranean Harvest.' They say it is 'better than the traditional one.' That's a tough claim to substantiate, but it is very good. It re-heats pretty well and is especially good, in my opinion, with the becha ..
Lentil Rissoles
A delicate vegetarian rissole recipe, with the ever-versatile lentil at the heart of the dish. As with all pulses it does take some time to cook, so I often combine this with another long-winded dish to make the most of my time. ..
Masal Vadai
A wonderful tamil / indian recipe. ..
Most Excellent Veggie Chili
One of the better meatfree chili recipes for vegetarians. Served with a wholemeal rice, or rounds of buttered fresh bread. ..
Pasta with Lentils
With this lentil and pasta dish you can substitute just about any type pasta for this recipe, instead of the spaghetti. ..
Potato, Lentil & Cheese Pie
Scrumptious lentil and potato based main course ..
Tomato Spinach Dal
Itís a common Indian household recipe, which is taken along with rice. Easy to prepare and tastes good ..
Vegetarian Red Beans And Rice
A straight forward kidney bean recipe. A taste of New Orleans cooking. ..
Vegetarian Savoury Pie
A nice solid savoury pie recipe for vegetarians, something to base other vegetables around. ..
Veggie Dal
Super easy slow cooker dal, one pot cooking can't be beaten. Serve with rice - Quick Lush Pilaf Rice recipe is ideal ..