Butter Beans with Parsley Sauce
| | | |
| --- | --- | --- |
| Servings | : | 4 |
| Preparation Time | : | ? |
| Difficulty | : | Easy |
A straight forward veggie main course meal with one of my favourites; butter beans at the heart of the recipe.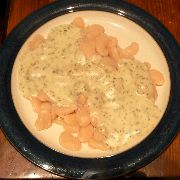 Ingredients
2-3 oz. of butter beans, per person
little butter
1 pint of milk
1 tablespoonful of wheatmeal
1 handful of finely chopped parsley
juice of 1/2 a lemon
pepper and salt to taste


Method
Pick the beans, wash them, and soak them over night in boiling water, just covering them.

Allow 2 or 3 oz. of beans for each person.

In the morning, let them cook gently in the water they are steeped in with the addition of a little butter, until quite soft, which will be in about 2 hours.

The beans should be cooked in only enough water to keep them from burning, therefore, when it boils away, add only just sufficient for absorption.

For the sauce; boil the milk and thicken it with the flour, which should first be smoothed with a little cold milk, then last of all add the lemon juice, the seasoning, and the parsley.

This dish should be eaten with potatoes and green vegetables.
View more Main Meals recipes
View more Pulse Based recipes