Recently Added Vegetarian Recipes
Recently added vegetarian recipes.
Chip Shop Curry Sauce
Replicating the medium-hot Chinese Curry Sauce that is available from Chinese Take-away Restaurants and Chip Shops up and down the country. ..
Felicity's perfect wholemeal bread
It has taken me a long time to find a really good Wholemeal Bread recipe or method. Given up more than once, but came across this recipe and wow it works, and pretty easy to boot. Recording it here so I can find it again. Made it twice, and both time ..
Rhubarb Crumble
Easy and rather good Rhubarb Crumble recipe. ..
Veggie Dal
Super easy slow cooker dal, one pot cooking can't be beaten. Serve with rice - Quick Lush Pilaf Rice recipe is ideal ..
Courgette and Nut Roast
The problem with most nut roasts is that they end up dry, hard to eat challenges that need loads of gravy. Not so with this nut roast recipe, the courgette and fruits ensure a moist, slightly firm nut roast packed full of flavour. ..
Sweet Potato Casserole
Rather easy sweet potato casserole, can seem a little time consuming but worth the effort, and can be got ready in advance and finished off as you need. ..
Chinese style spinach tofu
The dish cooks really quickly, so it is a good idea to have all the ingredients prepared ready. ..
Parsnip and Parmesan Bruschetta
Super easy Italian snack favourite ..
Tofu BBQ Skewers
I like this recipe because nothing can really taste bad once it's been BBQed and got a little sauce on it. It's easy to prepare, all fresh ingredients, and oh so healthy. Oh, and the kids will eat it too! ..
Homemade Ketchup
Your own ketchup without the high fructose corn syrup and whatever else. You will need a liquidiser, keep it in the fridge and it will last a fortnight. ..
Vegetarian Cheese Souffle
Calling all cheese lovers! This is a recipe for a delicious cheese pie, which is actually a recipe I learned from my mum. Whenever I make it, the smells from the kitchen remind me of her and her delicious cooking. It's a quite simple recipe and can b ..
Quorn Chicken Style Pieces Tetrazzini
Relatively easy quorn dish that works well, I usually serve with a bed of brown rice. ..
Saffron Popcorn
Movie time treat ..
Grilled Sweetcorn with Lime Butter
Lush little side dish. ..
Beetroot and Potato Gratin
Rather easy Beetroot side dish, or the main in our house with a few other vegetables. ..
Lemony Lemon Cheesecake
Super-dooper lemony lemon cheesecake, a really easy recipe, takes very little time and tastes wow. ..
Quick Lush Pilaf Rice
Made it a few times now, it gets the big thumbs up from the whole family. (Even if the kids wont try the curry it gores with). You can vary the recipe a little; it doesn't hurt, as long as the ingredients are cut small. ..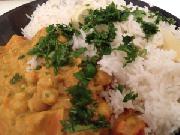 Peanut butter curry
It sounds crazy, and it shouldn't work, yet somehow it does. This recipe is a must-try for all peanut butter fans, or for those wanting to try something a bit more creative in the kitchen. It's a guilt free treat too, as the peanut butter and chickpe ..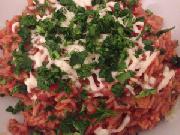 Red wine risotto
Full-bodied red wine perfectly complements the tomato sauce providing a tasty yet unusual dish. This super simple recipe demonstrates that there is more to risotto than mushrooms and white wine – and is ready in no time with ingredients you probably ..
FullyRaw Pumpkin Pie
You haven't tried Pumpkin Pie until you have tried my magical FullyRaw Pumpkin Pie! It's all-raw, low-fat, and SUPER sweet! This raw vegan recipe is the ultimate holiday pie to share with family and friends!
Cat's tongues are a very delicate little biscuit that I used to make many years ago. They were also pretty good served with other deserts. I also used to wrap them around the handles of wooden spoons the minute they came out the oven, and they would ..
Oaty honey biscuits
Way fast, easy to make, Oat & honey biscuit recipe - and taste way good too ..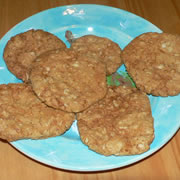 Abbey Crunch Biscuits
As mentioned on BBC Radio 4s food program of a sadly lost biscuit. Just wanting to rescue the recipe as closely as possible. Okay .. a seriously LOVELY biscuit, scores 10/10 from two of my kids. ..
Tosset cake
The Tosset Cake recipe featured-rescued on Jamie Oliver and Jimmy Dohertys program Friday Night Feasts. Saving it here as it is one I intend to try as soon as I locate some caraway seeds. ..
Pizza Sauce
Nice basil and garlic hinted sauce to spread on homemade pizzas and can be used with various pasta dishes. If kept in a sealed plastic container in the fridge, it can be kept for up to two weeks. ..
Perfect pizza dough
This recipe pretty much from Hugh Fearnley-Whittingstall's River Cottage Every Da ..
Scotch Pancakes
My mums recipe for scotch pancakes ..
| | | |
| --- | --- | --- |
| | New Vegetarian Recipes 1 - 30 of 446 | Next |