Recently Added Vegetarian Recipes
Recently added vegetarian recipes.
Red cabbage and apple soup
Based on a River Cottage recipe, a chunky soup that's a meal on its own served with good bread. Serves four to six. ..
Bees Kneees Gingerbread
Mums most excellent Ginger cakes, childhood on the tastebuds ..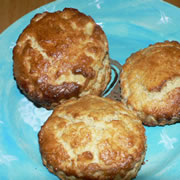 Dinas Scones 2
Dina's second scone recipe, or one of them at least. Perfect every time with a little practice. ..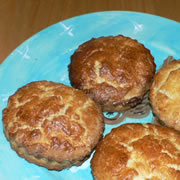 Dinas Scones
Dina's scone recipe, or one of them at least. Perfect every time with a little practice. ..
Apple Sauce
Very simple apple sauce recipe. Full flavour accompaniment to go with a vegetarian roast dinner. ..
Yacon Curry
Yacon curry for the slow cooker. I'd grown Yacon for the first time, and come autumn had no idea what to do with it. This is the recipe that came together and is pretty good. Tame enough that the kids ate without complaint too. Yacon has a very mild ..
More-ish Thousand Layer Cake
I made this as part of an evening course at college. It is a bit long winded, heavy on eggs, but blimey it is also very, very more-ish. ..
Quorn Semur Daging
The smooth combination of clove, nutmeg and cinnamon gives this dish a really distinctive Malaysian flavour. Serve with boiled rice. ..
Malay Style Fried Noodles
A favourite amongst many locals in Malaysia; a spicy & tangy noodle dish complemented by the sweet taste of shrimp and cabbage and cooled with a cucumber garnish. Perfect for lunch or dinner ..
Perfect Breakfast Mushrooms
Having the cooked breakfast? Veggie or otherwise. Really nice mushrooms are one of the ingredients that make a cooked breakfast into a fantastic cooked breakfast. This is my method and on the few occasions Iíve had occasion top cook breakfast for fri ..
Kashmiri style slow cooker veggie curry
I adapted the recipe to a veggie version from a more traditional lamb recipe; the spices and other ingredients are exact to a recipe that's been passed on for generations. Tweaking it slightly here and there, this is the version that comes out fantas ..
Vegetable Balti
A very authentic tasting Indian Balti recipe. It did require a few spices I don't normally have in the cupboard, but they are all spices I look forward to trying again. ..
Tomato and Onion Cachumbar
One of those wonderful Indian side dishes that go with the Naan breads and anything else for that matter. Exceptionally easy and a great accompaniment. ..
Yoghurt raita
Easy and very lovely side dish for a multitude of Indian Dishes ..
Naan Bread
Just the best Naan recipe I've found yet. You can add other fillings to vary it a little; garlic etc. ..
Saag Aloo
Perfect Sag Aloo to accompany a wide range of Indian dishes ..
Veggie Dumplings
Very light, suet-free dumplings to go with stews and other saucy meals. ..
Mixed Vegetable Stew with extra light dumplings
Nice, easy, straightforward vegetable stew with very light veggie dumplings. Ingredients are very fluid, just use what vegetables you have, or need using up. ..
Mushroom & Chestnut Pudding
A slow cooker recipe taken from a book I was given for Christmas. Very tasty, bit longwinded but worth the effort. ..
Mushroom & Chestnut Pudding
Long winded slow cooker meal, but well worth the effort for special occaisions or a rich treat. ..
Moroccan Vegetable Stew
Very easy, very tasty slow cooker meal. Throw it together in the morning and thoroughly enjoy in the evening. ..
Parsnip & Chickpea Curry
Very nice veggie curry, using all the individual spices proves far, far better than any ready to go curry sauce. ..
Dutch Stuffed Monkeys
Very tasty biscuit - mini-cake recipe. Great for lunch boxes and party snack dish ..
Easy Oatie Biscuits
Double yum, I made a double batch and they lasted about an hour. Big thumbs up from all the kids too. ..
Jennies Fried Tomatoes.
Either a side dish or starter, tastes fantastic with your own home grown tomatoes. ..
Creamed Artichokes.
Never having had artichokes, and being given some by a friend, this is the recipe found, tried and thought okay. ..
Sunflower Wheat Loaf
A lot of effort, but well worth it for a lovelly home made loaf. ..
Traditional Chocolate Layer Cake
Really old recipe for a layered chocolate cake. ..
Raspberry & Lemon Muffins
Simple muffin recipe ..
Chapatis (Indian flatbread)
A perfect bread to accompany most Indian dishes. ..