Recently Added Vegetarian Recipes
Recently added vegetarian recipes.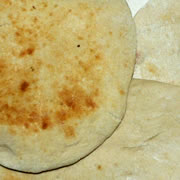 Homemade Naan Bread
I can't tell you how easy this was to make, and now I know I'll be cooking these more often. I opted for plain; they rose wonderfully in the middle. The first batch browned nicely, the second got a little singed while I was a little distracted, but e ..
Egg Fu Yung
Egg foo yung, to go with rice, side salads or alongside other oriental dishes. ..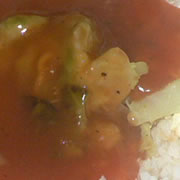 Sweet and Sour Cabbage
I'm a big lover of all sweet and sour dishes ..
Moroccan Vegetables & Chickpeas on Couscous
Think I got this recipe from my sisters diabetic cookbook, looking for something to go with the couscous. Liked this one. ..
Root vegetable rosti with mixed mushrooms
You can use any root vegetable you have to hand. Try including wild mushrooms if you can. ..
Quorn Casserole
Easy quorn casserole. ..
Garlic Potato Cakes
Nice to serve as part of a vegetarian main meal - try a little tomato salsa with these. ..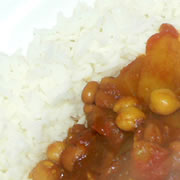 Potato and Chick Pea Curry
Light curry, serve with brown rice. Recently tried this one, but with only one tin of chickpeas in the cupboard, so subbed one with a tin of black eyes beans. Needed a bit more liquid in the sauce. ..
Sauté New Potatoes
Just a potato dish to go alongside any other veggie main course ..
Bachelor's Button Bites
Mouth filling one bite wonders. smrtovnice osmrtnicama ..
Flaming Bananas
Quick, simple and dramatic, should mention tasty too. ..
Tricolored Pepper Sauté
Colourful side dish, to accompany other veggie dishes. ..
Tofu Veggie Curry
I love everything curry, tried this one and can recommend. ..
Tofu and Pepper Stuffed Cabbage Rolls
Garlic and tomato flavoured cabbage leaves ..
Sweet n Sour Tea Sauce
This a versatile multipurpose sauce that is great with a variety of dishes. Steep quorn or vegetables before baking to add a little zing. Or use it as a dipping sauce or as a salad dressing. ..
Onion Rings
Homemade onion rings ..
Asparagus Pissaladiere
A delicious tart, hot or cold, and especially good for a picnic! ..
Herby Yoghurt Dressing
Herby Yoghurt Dressing ..
Asparagus and Quorn Cous-Cous
Asparagus and Quorn Cous-Cous ..
Asparagus Risotto
Asparagus Risotto ..
Deluxe Angel Food Cake
Very light angel cake ..
Paprika Potato Cakes
Works as both side dish and starter, or cold for lunch the next day. Salad and mayo works well with these potato cakes. ..
Tomato & Avocado Dipping Sauce
Goes with a lot of dishes. ..
Veggie Tempura
A deep fried, simple batter fritter. Serve up as a starter with soy sauce and lemon, or any number of dipping sauces. ..
Indian Potato Pancakes
Excellent Indian starter or side dish. More like a bhaji than a pancake. Tasty potato cake. You can vary the recipe by switching the curry powder for a different spice, such as paprika. ..
Beetroot Casserole
Beetroot is never an obvious choice for anything other than being served pickled with a salad, but it makes for some excellent main meals, it's sweet and holds a lot of nutritional benefits. The colour is so rich too. ..
Potato & Onion Tortilla
A Spanish dish that can be served hot or cold. ..
Spinach & Ricotta in Filo parcels
Brownie point-earning Vegetarian party food ..
Leek & Potato Filo Pie
Good main meal, or excellent veggie buffet dish ..
Oriental Quorn with Leeks, Chilli & Ginger
Serve with noodles or rice. ..