Peanut butter curry
| | | |
| --- | --- | --- |
| Servings | : | 3 |
| Preparation Time | : | 30 minutes |
| Difficulty | : | Easy |
It sounds crazy, and it shouldn't work, yet somehow it does. This recipe is a must-try for all peanut butter fans, or for those wanting to try something a bit more creative in the kitchen. It's a guilt free treat too, as the peanut butter and chickpeas are packed full of protein.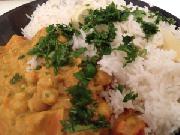 Ingredients
1 and a half onions (finely chopped)

1 orange chilli

˝ red chilli

3 medium sized carrots (sliced finely length-ways then quartered)

5 cherry tomatoes (optional)

piece fresh root ginger (finely chopped)

3 fat garlic cloves

curry paste

1 can of coconut milk

4 heaped tbsp peanut butter (I used crunchy, but I'm sure smooth would work too)

1 Can of chickpeas

two bunches of finely cut corriander (one for seasoning, one for garnishing)

1/4 lemon
Method
1. Fry the onions, garlic, chilli, carrots and ginger in a pan on medium heat for around 5 minutes, stirring occasionally.

2. Add in the curry paste, stir in the coconut milk then simmer for a few minutes to allow the flavours to infuse.

3. Next comes the exciting bit – stir four generous tablespoons full of peanut butter into the mixture – ideally without licking the spoon!

4. Pour in the chickpeas.

5. Squeeze in 1/4 of a lemon and sprinkle in some corriander for that final flavourful kick.smrtovnice
smrtovnice
osmrtnice
osmrtnicama ljubuški
umrli ljubuški
livno umrli
osmrtnice grude
osmrtnicama
smrtovnice sarajevo
smrtovnice visoko
smrtovnice bihac
jastuci
madraci
cvijeće
horoscope
vicevi
sanovnik
horoskop
recepti
cosmetics
beauty
Hints
Serve with warm naan, garlic bread, rice or poppadoms!
Submitted by
Marilyn Wilkinson
easyandveggie.com
View more Main Meals recipes
View more Nut Based recipes