Red wine risotto
| | | |
| --- | --- | --- |
| Servings | : | 3 |
| Preparation Time | : | 30 minutes |
| Difficulty | : | Easy |
Full-bodied red wine perfectly complements the tomato sauce providing a tasty yet unusual dish. This super simple recipe demonstrates that there is more to risotto than mushrooms and white wine – and is ready in no time with ingredients you probably already have in your cupboard.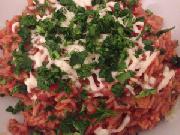 Ingredients
1 onion, finely chopped
3 cloves garlic, finely chopped
Cherry tomatoes, chopped
Fresh parsley, finely chopped
300g rice (I used basmati, but risotto rice would also work well)
1 can of tinned tomatoes
Stock cube
Boiling water
1 large glass of dry red wine
Salt and pepper to taste
Method
1. Fry the onions, garlic, tomatoes and parsley in a frying pan with some cooking oil.

2. In a separate pot, boil some water and throw in a stock cube.

2. Toss the rice into the frying pan and coat with the onions and garlic. Allow to cook for a couple of minutes, stirring occasionally.

3. Add in a can of tinned tomatoes, stir, and gradually pour in some of the stock.

4. Keep stirring and pouring in more stock until the rice is soft and no longer tastes hard/chewy.

5. Pour in a glass of red wine and allow to simmer for a few minutes until the liquid evaporates, stirring regularly so that the rice doesn't stick to the bottom of the pan.

7. Serve, garnish with herbs and cheese and then enjoy with a glass – or two – of your favourite red!smrtovnice
smrtovnice
osmrtnice
osmrtnicama ljubuški
umrli ljubuški
livno umrli
osmrtnice grude
osmrtnicama
smrtovnice sarajevo
smrtovnice visoko
smrtovnice bihac
jastuci
madraci
cvijeće
horoscope
vicevi
sanovnik
horoskop
recepti
cosmetics
beauty
Hints
Garnish with mozzerella and parsley that extra kick, or make this recipe your own by adding peas, carrots, courgettes (zucchini), peppers or any other vegetable you like.
Submitted by
Marilyn Wilkinson
easyandveggie
View more Main Meals recipes
View more Rice based recipes