A Selection of Potato Based Vegetarian Main Meal Recipes
The ever popular potato can be at the heart of many popular vegetarian recipes. These are a few such recipes.
Batter Potato
Anything in batter is highly unfashionable for home cooking because it immediately brings deep fried and unhealthy oil to mind. This potato batter recipe is more like toad in the hole, and a tasty batter cooked in the oven need not be that bad. ..
Cheesy Potato Casserole
A nice potato main course for the odd occaision. ..
Leek & Potato Filo Pie
Good main meal, or excellent veggie buffet dish ..
Potato & Cauliflower Curry
A real taste of India, with a genuine Indian curry recipe, suitable for vegetarians. ..
Potato & Onion Tortilla
A Spanish dish that can be served hot or cold. ..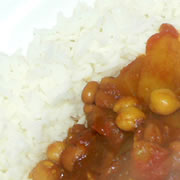 Potato and Chick Pea Curry
Light curry, serve with brown rice. Recently tried this one, but with only one tin of chickpeas in the cupboard, so subbed one with a tin of black eyes beans. Needed a bit more liquid in the sauce. ..
Spinach and Feta Stuffed potatoes
Another excellent potato recipe, devised for the vegetarian palet. Yum Yum. ..
Sweet Potato Casserole
Rather easy sweet potato casserole, can seem a little time consuming but worth the effort, and can be got ready in advance and finished off as you need. ..