Vegetable Hot Pot with Cheese Triangles
| | | |
| --- | --- | --- |
| Servings | : | 6+ |
| Preparation Time | : | Total 2 hours with cooking |
| Difficulty | : | Easy |
A sort of savoury vegetable cobbler; this hot pot is topped with a simple scone mixture. The combination is taste-tastic. Use your favourite vegetables, as long as the overall weight remains the same. Some substituted vegetables may need a little longer cooking time.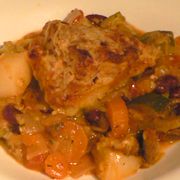 Ingredients
30ml / 2 tbsp oil
2 garlic cloves, crushed
1 onion, roughly chopped
5ml / 1 tsp mild chilli powder
450g / 1lb potatoes, peeled and roughly chopped
450g / 1lb celeriac, peeled and roughly chopped
350g / 12oz carrots, roughly chopped
350g / 12oz trimmed leeks, roughly chopped
225g / 8oz / 3 cups brown cap button mushrooms, halved
20ml / 4 tsp plain flour
600ml / 1 pint / 2.5 cups vegetable stock
400g / 14oz can chopped tomatoes
15ml / 1 tbsp tomato puree
30ml / 2 tbsp chopped fresh thyme
400g / 14oz can kidney beans, drained and rinsed
Salt and black pepper to taste

For the Topping

225g / 8oz / 2 cups self-raising flour
115g / 4 oz / ˝ cup butter
115g / 4 oz / 1 cup grated cheddar cheese
30ml / 2 tbsp snipped fresh chives
About 75ml / 5 tbsp milk
Method
Preheat the oven to 180c / 350f / Gas 4. Heat the oil in a large flameproof casserole. Add the garlic and onion and fry over a low heat, stirring occasionally for 5 minutes. Stir in the chilli powder and cook for 1 minute more.

Add the potatoes, celeriac, carrots, leeks and mushrooms. Cook for 3-4 minutes. Stir in the flour and cook, stirring constantly, for 1 minute more.

Stir in the vegetable stock, then the tomatoes, tomato puree and thyme and season well with salt and pepper. Bring to the boil, stirring. Cover and cook in the oven for 30 minutes.

Meanwhile, make the topping. Sift the flour into a bowl and rub in the butter with your fingertips, then stir in half the grated cheese, together with the chives and plenty of seasoning. Add just enough milk to bind the dry ingredients and mix quickly to form a soft dough.

Pat out the dough to a round, about 1 inch / 2.5cm thick. Cut it into 12 triangles. Brush with a little milk.

Remove the casserole from the oven and stir in the kidney beans. Overlap the triangles on top, and sprinkle the remaining grated cheddar cheese. Return to the oven, uncovered for 20-25 minutes, or until the scone topping is golden brown and cooked through.

Serve at once.smrtovnice
smrtovnice
osmrtnice
osmrtnicama ljubuški
umrli ljubuški
livno umrli
osmrtnice grude
osmrtnicama
smrtovnice sarajevo
smrtovnice visoko
smrtovnice bihac
jastuci
madraci
cvijeće
horoscope
vicevi
sanovnik
horoskop
recepti
cosmetics
beauty
Hints
I substituted rough cut courgette for the celeriac, thinly sliced green from spring onions in the place of the chives. But kept the weights the same. My largest casserole dish was not big enough, this easily makes eight or even ten portions. For this reason I skipped the first 30 minutes in the oven, and instead simmered for 30 minutes in our largest pan, stirring occasionally, until the veg had dropped in size and would fit into two casserole dishes. It could also have done with a little more scone topping than these quantities provided, I was unable to overlap, but placed them evenly on top.

Yum, yum!!! This one scored good marks from everyone bar our pickiest daughter. This was the first recipe I tried from a Vegetarian cookbook I've since become quite impressed with; Vegetarian: A Cook's Guide to the Sensational World of Vegetarian Cooking with 500 Recipes – Edited by Valerie Ferguson.
View more Main Meals recipes
View more Vegetable based recipes