Clare's wonderful warming winter vegetable cobbler
| | | |
| --- | --- | --- |
| Servings | : | 6 |
| Preparation Time | : | 15 mins, Cooking time 50 mins |
| Difficulty | : | Moderate |
This recipe is from Ainsley Harriott's book 'Gourmet Express 2'. When you come across one of those recipes that really tickles your taste buds, this is one of those.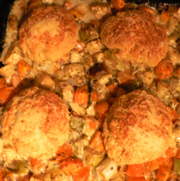 Ingredients
2 leeks, thickly sliced
6 small carrots, cubed
6 small parsnips, cubed
4 sage sprigs
2 tblspn olive oil
1/2 pint vegetable stock
1/4 pint carton of double cream
salt and black pepper

For the Cobbles
6 oz self-raising flour
1/2 tspn salt
1/2 tspn cayenne pepper
1 oz butter
3 oz mature cheddar cheese, finely grated
1 large egg
3 tblspn milk
Method
Preheat the oven to 200.c / 400.F / Gas Mark 6.

Place the vegetables and sage in a roasting tin, drizzle with oil and season with salt and pepper. Roast for 30 minutes until brown.

Place the flour, salt, cayenne, butter and three quarters of the cheddar cheese in a food processor and whiz until well blended.

Beat together the egg and 2 tablespoons of the milk, then add to the food processor. Pulse to form smooth soft dough.

Mix together the vegetable stock, cream and mustard, and pour over the vegetables.

Then with floured hands, roll the cobble mixture into 6 balls and flatten slightly with the palm of your hand.

Brush the tops of the cobbles with the remaining milk, then sprinkle over the remaining grated cheese.

Place the cobbles on top of the vegetables and sauce and bake for 20 minutes until risen and golden brown.

Serve immediately.smrtovnice
smrtovnice
osmrtnice
osmrtnicama ljubuški
umrli ljubuški
livno umrli
osmrtnice grude
osmrtnicama
smrtovnice sarajevo
smrtovnice visoko
smrtovnice bihac
jastuci
madraci
cvijeće
horoscope
vicevi
sanovnik
horoskop
recepti
cosmetics
beauty
Hints
You can get a selection of Ainsley Harriotts cookbooks at Amazon, including Gourmet Express 2.
View more Main Meals recipes
View more Vegetable based recipes