Beetroot Pie
| | | |
| --- | --- | --- |
| Servings | : | 6 |
| Preparation Time | : | 10 min, Cooking Time: 40 min |
| Difficulty | : | Easy |
An amazingly excellent recipe. We had a number of raw beetroot to use when we were getting organic vegetables delivered via the Riverford Organic Vegetable box scheme.

Only ever having had pickled beetroot with salads and stews before, we went looking for a beetroot recipe. And this is the one we found ... very nice indeed, and one we cook whenever we can get beetroot in uncooked quantities.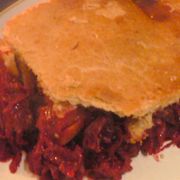 Ingredients
1 1/2lb of beetroot
1/2lb mature cheddar cheese
1 onion
3 tbsp mayonnaise
Salt and pepper to taste
Method
1. Peel and grate the beetroot, grate the cheese and chop the onion.

2. Mix all ingredients together with the mayonnaise and put into a wholemeal pastry case with lid.

3. Bake in a medium oven for around 40 minutes.
smrtovnice
smrtovnice
osmrtnice
osmrtnicama ljubuški
umrli ljubuški
livno umrli
osmrtnice grude
osmrtnicama
smrtovnice sarajevo
smrtovnice visoko
smrtovnice bihac
jastuci
madraci
cvijeće
horoscope
vicevi
sanovnik
horoskop
recepti
cosmetics
beauty

Hints
Serve hot with mashed or boiled potatoes & buttered cabbage, or cold with salad.
Submitted by
Libby Brodhurst
Riverford Organic Vegetables
View more Main Meals recipes
View more Vegetable based recipes