Vegetarian Main Courses
A range of vegetarian main course dishes. Many also suitable as snacks and starters when the quantity is adjusted accordingly.
Tofu And Barley Stew With Winter Squash
We all love comfort foods - you know the ones, creamy, thick and rich and they make you feel so good, you want to snuggle up with your bowl and shut out the world .. and its accompanying stress and tension. This smooth, silky barley stew laden with v ..
Tofu and Pepper Stuffed Cabbage Rolls
Garlic and tomato flavoured cabbage leaves ..
Tofu BBQ Skewers
I like this recipe because nothing can really taste bad once it's been BBQed and got a little sauce on it. It's easy to prepare, all fresh ingredients, and oh so healthy. Oh, and the kids will eat it too! ..
Tofu Burgers
Tofu Burgers - For a more intense flavor, you can skip step 2 and just add the raw ingredients to step 3 -For a yummy twist, try using a herbed or seaweed tofu. ..
Tofu Spaghetti Surprise
I was put off tofu at an early stage in my vegetanariansm, but this is one of the few tofu recipes I can not only cope with, but thoroughly enjoy. ..
Tofu Veggie Curry
I love everything curry, tried this one and can recommend. ..
Tomato Spinach Dal
Itís a common Indian household recipe, which is taken along with rice. Easy to prepare and tastes good ..
Old Mans Vegetable Pie
I have no idea why it is called 'Old Mans' Vegetable pie. Its what my granny called it, she used to make it from time in a big dish, if she had a few of us to feed, me and my cousins. I'm glad I got her to tell me the recipe now. ..
Vegan Cheesalike with Penne Pasta
This vegan cheese a like and pasta recipe has the texture and thickness of riccotta, but the flavour of onion and garlic and peppers. ..
Vegetable Batter
Couldn't be simpler and couldn't taste better. Toad in the hole for a veggie heaven. ..
Vegetable Chow Mein
Noodles stir-fried with vegetables and classic Chinese flavourings such as garlic, ginger and sesame oil, make up this popular dish. Serve as a vegetarian main course. ..
Vegetable Curry
For this recipe it is important to prepare everything first as cooking then becomes simple. ..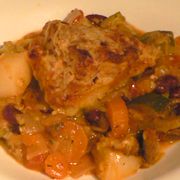 Vegetable Hot Pot with Cheese Triangles
A sort of savoury vegetable cobbler; this hot pot is topped with a simple scone mixture. The combination is taste-tastic. Use your favourite vegetables, as long as the overall weight remains the same. Some substituted vegetables may need a little lon ..
Vegetable Hotpot
Every day vegetarian hot pot recipe that has been around for a few years. ..
Vegetarian Curry
A colourful veggie curry that hits the spot, and only takes about half an hour to make all told. You can also add different vegetables or drop others according to what you've got available. You just need to keep the coconut cream handy in the cupboar ..
Vegetarian Garlic Chicken
Heart Healthy Meatless Meal. ..
Veggie Dal
Super easy slow cooker dal, one pot cooking can't be beaten. Serve with rice - Quick Lush Pilaf Rice recipe is ideal ..
veggie risotto
This is a nice dish, easy to make and worth the effort. ..
Wheat Germ Burgers
A good burger alternative. Little long in the making but generally worth the effort for larger numbers. ..
Yacon Curry
Yacon curry for the slow cooker. I'd grown Yacon for the first time, and come autumn had no idea what to do with it. This is the recipe that came together and is pretty good. Tame enough that the kids ate without complaint too. Yacon has a very mild ..
Zucchini Squash Casserole
I use this recipe for marrow and courgettes, and the cheese is most often just the cheddar cheese we already have in the fridge. The flavour can be a little strong for children. ..