Vegetarian Main Courses
A range of vegetarian main course dishes. Many also suitable as snacks and starters when the quantity is adjusted accordingly.
Masal Vadai
A wonderful tamil / indian recipe. ..
Meatless Shepherd's Pie
Excellent meat free Shepherds pie. For a more substantial dish, you can add / substitute things like pre-cooked tofu, lentils or mushrooms. ..
Microwave Quorn Curry
About as easy as a microwave curry can be. ..
Mixed Vegetable Stew with extra light dumplings
Nice, easy, straightforward vegetable stew with very light veggie dumplings. Ingredients are very fluid, just use what vegetables you have, or need using up. ..
Moroccan Vegetable Stew
Very easy, very tasty slow cooker meal. Throw it together in the morning and thoroughly enjoy in the evening. ..
Moroccan Vegetables & Chickpeas on Couscous
Think I got this recipe from my sisters diabetic cookbook, looking for something to go with the couscous. Liked this one. ..
Mushroom & Chestnut Pudding
Long winded slow cooker meal, but well worth the effort for special occaisions or a rich treat. ..
Mushroom & Chestnut Pudding
A slow cooker recipe taken from a book I was given for Christmas. Very tasty, bit longwinded but worth the effort. ..
Mushroom Monegasque
Tomato and mushroom dish, served cold with crusty wholemeal bread rolls. ..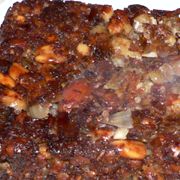 Basic Nut Roast
A pretty good Nut Roast, considerably better than we have ever been able to find in the shops. Will need gravy or a sauce to accompany it. ..
One Pot Quorn Casserole
Not quite my mums tata ash, but a very robust quorn casserole. The slower you cook it the fuller the flavour. ..
Oriental Quorn with Leeks, Chilli & Ginger
Serve with noodles or rice. ..
Parsnip & Chickpea Curry
Very nice veggie curry, using all the individual spices proves far, far better than any ready to go curry sauce. ..
Pasta Shells Florentine
There are so many pasta dishes open to vegetarians and this is one of my preferred recipes. ..
Pasta Stuffed Peppers
Serve with a side salad. ..
Pasta with Lentils
With this lentil and pasta dish you can substitute just about any type pasta for this recipe, instead of the spaghetti. ..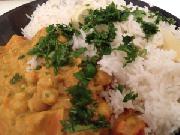 Peanut butter curry
It sounds crazy, and it shouldn't work, yet somehow it does. This recipe is a must-try for all peanut butter fans, or for those wanting to try something a bit more creative in the kitchen. It's a guilt free treat too, as the peanut butter and chickpe ..
Potato & Cauliflower Curry
A real taste of India, with a genuine Indian curry recipe, suitable for vegetarians. ..
Potato & Onion Tortilla
A Spanish dish that can be served hot or cold. ..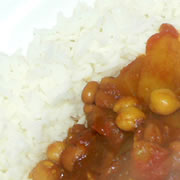 Potato and Chick Pea Curry
Light curry, serve with brown rice. Recently tried this one, but with only one tin of chickpeas in the cupboard, so subbed one with a tin of black eyes beans. Needed a bit more liquid in the sauce. ..
Potato Hash (Potty Ash)
A veggie version of the corned beef hash my mother used to make, and that remains a strong memory of my childhood. A bit longwinded, but well worth the effort, especially on cold winter days. ..
Potato, Lentil & Cheese Pie
Scrumptious lentil and potato based main course ..
Vegetable Paella
A very filling vegetable Paella recipe. Serving immediately it is excellent, with a light salad on the side. However, it doesn't sit and wait for you too well. Don't try this one if you need it to hover on the hob while you wait for someone to arriv ..
Vegetarian Potato hash
One of my childhood favourite dishes was potato hash, made by my mother, my grandmother and my great gran too. (Though my mums was best). Traditionally made with corned beef from the tin, potato hash is one of the childhood flavours and smells you c ..
Quick and Easy White Cheese Bean Burrito
Delicious Burrito. The whole pinto beans and lots of white cheese are what make this burrito better. ..
Quorn & Vegetable Pasta Bake
Makes an excellent light meal on its own, or serve with a side salad and crusty or garlic bread for a main meal. You can substitute thickly sliced aubergine for the quorn pieces if you would prefer. ..
Quorn and Mushroom Stroganoff
One of my favourite, if occaisional, recipes before going veggie was a decent stroganoff. This vegetarian stroganoff using quorn at the core, is a good alternative. ..
Quorn and Mushroom Stroganoff
Tasty family recipe using the ever versatile Quorn pieces ..
Quorn Biryani
A one pot meal, very filling with the taste of India. One or two natural yoghurt based dips will go well with this vegetarian biryani dish ..
Quorn Bolognese
A family favourite made easy. Delicious Quorn Mince is so versatile... ..