Vegetarian Main Courses
A range of vegetarian main course dishes. Many also suitable as snacks and starters when the quantity is adjusted accordingly.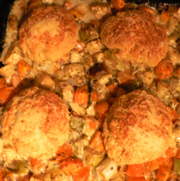 Clare's wonderful warming winter vegetable cobbler
This recipe is from Ainsley Harriott's book 'Gourmet Express 2'. When you come across one of those recipes that really tickles your taste buds, this is one of those. ..
Courgette and Nut Roast
The problem with most nut roasts is that they end up dry, hard to eat challenges that need loads of gravy. Not so with this nut roast recipe, the courgette and fruits ensure a moist, slightly firm nut roast packed full of flavour. ..
Couscous and Lentil Casserole
Very filling, easily adaptable casserole with every vegetarians stalwart lentils. ..
Curried Rice and Tomatoes
A bit of student veggie recipe, one for when the budget is tight. Very filling, and warming on cold nights too. ..
Hot and Spicy Chick Peas
Much of the Indian population is vegetarian, and they enjoy the most extensive vegetable dishes in the world. This is not only because of the predominant Hindu religion with its respect for all living creatures. Also feeding 1 billion Indian people n ..
Most Excellent Veggie Chili
One of the better meatfree chili recipes for vegetarians. Served with a wholemeal rice, or rounds of buttered fresh bread. ..
Indian Dal
Any vegetarian lover of the Indian cuisine should always have a good and traditional Dal recipe in their repetoire .. ..
Indian Dosai
Dosai is a pancake-like South Indian dish. ..
Easy Vegetarian Lasagna
Big portion recipe for a tasty vegetarian lasagne. You can scale this one down a little, but when you're serving for greater numbers this one fits the bill. ..
Egg Fu Yung
Egg foo yung, to go with rice, side salads or alongside other oriental dishes. ..
Enchiladas
Make Mexican enchiladas for the whole family ..
Fluffy Omelet
Light and fluffy omelet recipe; excellent for the light lunches. ..
Good Vegan Lasagna
A surprisingly good vegan lasagna recipe. I'm not normally a great fan of tofu, but I do get in specially for this particular veggie lasagne recipe. ..
Green Bean Casserole
Cheatingly simple green bean casserole, for those like me - often in a rush. Or who think they can't cook! ..
Green Lentil Vegetarian Chilli
Green Lentil Chilli, mild works so well. ..
Grilled Vegetables with Balsamic Marinade
Pretty good for veggie BBQs. ..
Hungarian Cabbage Noodles
A good cabbage recipe that goes well with veggie sausages and a salad of dark green lettuce and tomatoes. ..
Vegetarian Hot Pot
An easy, straightforward vegetarian hot pot recipe. A decent main meal in its own right, and serves well with most vegetable dishes. We like it as is and have either with a good dollop of dark sauce, or with a little sliced pickled beetroot. And the ..
Veggie Hungarian Goulash
A vegetarian slant on the Hungarian dish the Hungarians seem to have never heard of. Works well though, another of the favourites. ..
Kashmiri style slow cooker veggie curry
I adapted the recipe to a veggie version from a more traditional lamb recipe; the spices and other ingredients are exact to a recipe that's been passed on for generations. Tweaking it slightly here and there, this is the version that comes out fantas ..
Leek & Potato Filo Pie
Good main meal, or excellent veggie buffet dish ..
Lentil Burgers
These lentil burgers taste far better than they sound and are well worth trying. You can experiment a little by varying, adding or substuting some of the ingredients. ..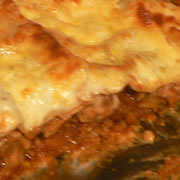 Lentil Lasagne
A very good, and relatively simple vegetarian lasagna recipe using lentils. This is one recipe the kids will eat without a single moan. ..
Lentil Moussaka II
This is from Scaravelli and Cohen's 'A Mediterranean Harvest.' They say it is 'better than the traditional one.' That's a tough claim to substantiate, but it is very good. It re-heats pretty well and is especially good, in my opinion, with the becha ..
Lentil Rissoles
A delicate vegetarian rissole recipe, with the ever-versatile lentil at the heart of the dish. As with all pulses it does take some time to cook, so I often combine this with another long-winded dish to make the most of my time. ..
Favourite Macaroni Pie
A simple macaroni recipe without any cheese in sight. It could not be any simpler to make and it works well. ..
Macaroni and Cheese
A near perfect macaroni cheese recipe for vegetarians. ..
Macaroni Cheese
A macaroni cheese recipe that works well for me. Another good vegetarian recipe with pasta at the core. ..
Malay Style Fried Noodles
A favourite amongst many locals in Malaysia; a spicy & tangy noodle dish complemented by the sweet taste of shrimp and cabbage and cooled with a cucumber garnish. Perfect for lunch or dinner ..
Manicotti with Cheese Filling
A nice change from the usual veggie bolognaise, the mixture of cheeses does offer a very Italian taste sensation. ..