Basic Nut Roast
| | | |
| --- | --- | --- |
| Servings | : | 4 |
| Preparation Time | : | 1 hour with cooking |
| Difficulty | : | Easy |
A pretty good Nut Roast, considerably better than we have ever been able to find in the shops. Will need gravy or a sauce to accompany it.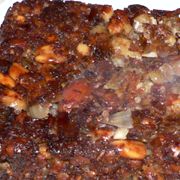 Ingredients
150g chopped mixed nuts
75g wholemeal breadcrumbs
1/2 onion, chopped
1 tbsp soy sauce
1/2 tsp dried thyme
1 tsp lemon juice
25g butter or margarine
1 tsp oil
1 tsp yeast extract
2/3 cup water
Method
Thoroughly mix together all the ingredients except the yeast and water.

Dissolve the yeast extract in the water, and then add it to the rest of the mixture, mix thoroughly.

Press into a greased loaf tin or baking dish.

Bake in a preheated oven; 190c, 375f, gas mark 5 for about 30-40 minutes until crisp on top and hot in the middle.

Serve in slices, hot or cold.smrtovnice
smrtovnice
osmrtnice
osmrtnicama ljubuški
umrli ljubuški
livno umrli
osmrtnice grude
osmrtnicama
smrtovnice sarajevo
smrtovnice visoko
smrtovnice bihac
jastuci
madraci
cvijeće
horoscope
vicevi
sanovnik
horoskop
recepti
cosmetics
beauty
Hints
Works well with a roast dinner, this is the recipe we would favour on Christmas day. And it's a really simple one, for a day when you're limited for hob and oven space.

Second Christmas gone, and only compliments for this nutroast recipe; even from the non-veggie guests.
Submitted by
Johnie Walker
Bed and Breakfast Directory
View more Main Meals recipes
View more Roasts recipes