Rice Fritters
A fairly simple, not exactly healthy, and thoroughly rewarding to the taste buds, vegetarian rice fritter recipe. ..
Potato Souffle
We've had both success and failure with this dish, but enjoyed both. It can work well as a main course served with salad, or light vegetables. ..
Curried Eggs
An interesting side dish for spicier meals, accompanying rice and similar. Works well with a pick and mix meal. ..
Malvern Pudding
An old pudding recipe, not one I've seen for a while. We don't have this one very often, but we enjoy this wonderful fruity pudding when we do. ..
London Pudding
A fills-you-up pudding, very simple to make, tastes great, and thorouhly warming if you're out on a cold December evening. ..
Portuguese Rice
Just a simple veggie rice dish to add a little variety to boiled rice. Goes well with mild curries, salads, and all sorts really. ..
Egg Salad with Homemade Mayonnaise
Homemade mayonnaise can feel time-consuming, especially with the vigorous whisking it needs. But the taste test really does highlight the difference. ..
Potato Snow
A very pretty dish, looks good on a laid out table and always gets the 'Oooh what's that?' An ideal potato dish to go alongside a wide variety of main meal recipes. ..
Swiss Eggs
A very light continental bite, its a quick lunch dish especially if you are already baking with a hot oven. A nice light meal when your friends are round during the day. ..
Vegetarian Scotch Eggs
Meat-free vegetarian Scotch eggs for those packed lunches, picnics, buffet parties and family salads. ..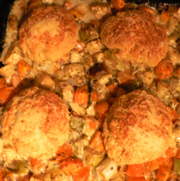 Clare's wonderful warming winter vegetable cobbler
This recipe is from Ainsley Harriott's book 'Gourmet Express 2'. When you come across one of those recipes that really tickles your taste buds, this is one of those. ..
Spanish Rice
A very simple and reasonably healthy rice dish suitable for veggies everywhere. ..
Savoury Rice Croquettes
A little like potato croquettes, but a whole lot healthier, these vegetarian rice croquettes can be used as a replacement potato dish, or as a main course in their own right. ..
Vegetarian Savoury Pie
A nice solid savoury pie recipe for vegetarians, something to base other vegetables around. ..
Spinach Dumplings
We have only tried this veggie recipe for Spinach dumplings the once, but we did enjoy them. Certainly a recipe we would recommend and will be trying again. ..