St. Andrews Soup
A tomato and potato based vegetarian soup recipe. ..
Parsnip Soup
An old parsnip soup recipe. ..
Clear Soup
Easy peasy clear vegetable soup. ..
Butter Biscuits
Super simple butter biscuit recipe. You can of course substitute with a margerine of your choice. ..
Vegetable Hotpot
Every day vegetarian hot pot recipe that has been around for a few years. ..
Vegetable Paella
A very filling vegetable Paella recipe. Serving immediately it is excellent, with a light salad on the side. However, it doesn't sit and wait for you too well. Don't try this one if you need it to hover on the hob while you wait for someone to arriv ..
Broccoli & Pasta Sauce
A broccoli dish that sounds a little fancier than it is. Nice for when you want something a little different. ..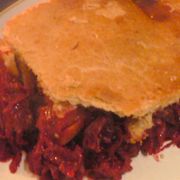 Beetroot Pie
An amazingly excellent recipe. We had a number of raw beetroot to use when we were getting organic vegetables delivered via the Riverford Organic Vegetable box scheme. Only ever having had pickled beetroot with salads and stews before, we went looki ..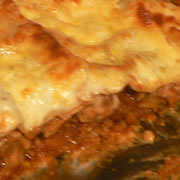 Lentil Lasagne
A very good, and relatively simple vegetarian lasagna recipe using lentils. This is one recipe the kids will eat without a single moan. ..
Quorn Chili Con Carne
Very simple chilli recipe using Quorn as the meat substitute. ..
The Ultimate Salad Dressing
An easy one to show off with. ..
Tomato Salad
Very, very easy salad that can be thrown together quickly at any time and makes an ideal side dish. ..
Warm Red Cabbage Salad
Another wonderful red cabbage recipe, though we often substitute the goats cheese for whatever cheese we have in the fridge at the time. ..
Zucchini and Mushroom Salad
A simple salad that's a little more adventurous than chopped lettuce and tomato. ..
Hot and Spicy Chick Peas
Much of the Indian population is vegetarian, and they enjoy the most extensive vegetable dishes in the world. This is not only because of the predominant Hindu religion with its respect for all living creatures. Also feeding 1 billion Indian people n ..
Simple Sweetcorn Soup
Very quick and easy, (read cheating), sweetcorn soup. ..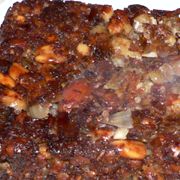 Basic Nut Roast
A pretty good Nut Roast, considerably better than we have ever been able to find in the shops. Will need gravy or a sauce to accompany it. ..