Popular Vegetarian Recipes
Vegetarian recipes, those looked at, requested and printed the most.
Asparagus Risotto
Asparagus Risotto ..
Cinnamon Rolls
All flavor, more-ish cinnamon rolls. ..
Southwestern Corn And Potato Soup
A low-fat recipe, the onions are not sauteed first. ..
Apple and Tapioca
Everyone over 30 in the UK will remember the dreaded tapioca pudding from school. The frogspawn stodge. Try it again now in a decent recipe! ..
Spaghettini With Zucchini And Rosemary
Rosemary gives this savoury pasta sauce a distinct, yet not overpowering, flavour. Garlic bread is the perfect accompaniment. ..
Bachelor's Button Bites
Mouth filling one bite wonders. smrtovnice osmrtnicama ..
Microwave Quorn Curry
About as easy as a microwave curry can be. ..
French Fried Onion Rings
Onion rings that can go with virtually any vegetarian dish .. well they can for me! Or on their own. Not generally a breakfast dish mind. ..
Sweet Potato Croquettes
Super sweet croquettes. ..
Leek & Potato Filo Pie
Good main meal, or excellent veggie buffet dish ..
Cheese Bread
A little italian twist on cheese on toast. ..
Rustic White Bread
Home made bread .. once tasted .. ..
Hush Puppies
A quick and simple recipe for vegetarian hush puppies. ..
Potato Masala
Potato Masala, an accompaniment to Dosai, Chapati, etc. ..
Garlic Mashed Potatoes
If you're a fan of garlic you'll love this recipe. ..
Parsnip & Chickpea Curry
Very nice veggie curry, using all the individual spices proves far, far better than any ready to go curry sauce. ..
Vegetarian Cornbread
A vegetarian slant on a popular cornbread recipe. No tasty nibbles of bacon in this one though. ..
Red Lentil Soup
The ever versatile lentil. Nice filling soup for all year round. ..
Potato, Lentil & Cheese Pie
Scrumptious lentil and potato based main course ..
Strawberry Rhubarb Coffee Cake
Big taste cake that never fails to satisfy. ..
Barbecued Asparagus, Rocket, Goats Cheese and Pine Nut Salad
Barbecued Asparagus, Rocket, Goats Cheese and Pine Nut Salad. Perfect for the BBQ! ..
Lentil Soup 3
I havent really been one to post recipes, but, there are a few which I have enjoyed so much over the years, and which I have wanted to post for quite some time. ..
Cheddar Crackers
These Cheesy Crackers will keep for several weeks and if you freeze them, will last indefinitely. ..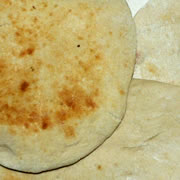 Homemade Naan Bread
I canít tell you how easy this was to make, and now I know Iíll be cooking these more often. I opted for plain; they rose wonderfully in the middle. The first batch browned nicely, the second got a little singed while I was a little distracted, but e ..
Indian Potato Pancakes
Excellent Indian starter or side dish. More like a bhaji than a pancake. Tasty potato cake. You can vary the recipe by switching the curry powder for a different spice, such as paprika. ..
Stuffed Rolls
Excellent for outdoor evening parties, these go down well with guests both young and old. ..
Sambar - A South Indian recipe
A liquid substance traditionally eaten with dosai, idli, vadai and rice, among other things. ..
Quorn Cottage Pie
Really just a simple cottage pie recipe that substitutes the quorn mince for the mince meat. Works well. Serve with one or two portions of plainly cooked vegetables; broccoli, cauliflower, etc. ..
Veggie Tempura
A deep fried, simple batter fritter. Serve up as a starter with soy sauce and lemon, or any number of dipping sauces. ..
Potato Sausages
They're potato croquettes really, but the kids like sausages and these do well from time to time and make a reasonable vegetarian sausage recipe. ..