Popular Vegetarian Recipes
Vegetarian recipes, those looked at, requested and printed the most.
Oxfordshire Pudding
This is a delicious pudding if properly made; it should be firm, but not dry. ..
Holiday Eggnog
Eggnog for those rare occaisions. ..
Pancakes
Pancakes for every occaision, server with lemon juice and a teaspoon of sugar. Or use to hold a variety of sweet or savoury fillings. ..
Moroccan Vegetable Stew
Very easy, very tasty slow cooker meal. Throw it together in the morning and thoroughly enjoy in the evening. ..
Microwave Quorn Curry
About as easy as a microwave curry can be. ..
Bachelor's Button Bites
Mouth filling one bite wonders. ..
Sambar - A South Indian recipe
A liquid substance traditionally eaten with dosai, idli, vadai and rice, among other things. ..
Peanut or Cashew Butter Sauce
A peanut or cashew butter sauce recipe that goes well with rice fettuccine. Try using a creamy nut butter for better results. ..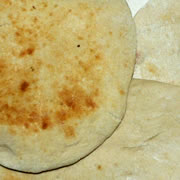 Homemade Naan Bread
I canít tell you how easy this was to make, and now I know Iíll be cooking these more often. I opted for plain; they rose wonderfully in the middle. The first batch browned nicely, the second got a little singed while I was a little distracted, but e ..
Curried Tomatoes
The ever versatile tomato in another side dish, or vegetarian main course. A recipe that works quite well. ..
Marbled Biscotti
Decorative biscuits with a memorable flavour. ..
Cheddar Crackers
These Cheesy Crackers will keep for several weeks and if you freeze them, will last indefinitely. ..
Barbecue Sauce
If you're going to the effort of barbeque cooking for your guests, then a home made barbeque sauce can be worth the little effort it takes. ..
Bon Accord Pudding
This recipe is from a cookbook that belonged to my great-grandmother; 'The New Cookbook, a volume of tried, tested and proven recipes' by The Ladies of Toronto and other cities and towns; published in 1905 by Musson Books. ..
Sweet Chopped Chunky Pasta
I was on my way home on Ground Hog Day and I got hungry, so I hopped off the C train at Lafayette street and hit PathMark on Flatbush for some ingredients to cook with. I had two things in mind. Hot and Sweet. I literally skipped through he isles, an ..
Savory French Toast
A more savoury take on the classic recipe, when you don't want it the usual sweet way. ..
Slow Cooker Sweet & Sour Quorn
Not a perfect sweet and sour, but about as easy and simple as you can get. Serve with rice. ..
Vermicelli Soup
It can be impossible to find saffron these days, but when you can, this is on of those old recipes that was written for it. ..
Cajun Spice Mix
This is a real hot one. Just rub into quorn mixes, diced vegetables pieces, leave for a while and then cook as desired. Or sprinkle over potato wedges. ..
The Ultimate Salad Dressing
An easy one to show off with. ..
Mushroom Monegasque
Tomato and mushroom dish, served cold with crusty wholemeal bread rolls. ..
Tomato Spinach Dal
Itís a common Indian household recipe, which is taken along with rice. Easy to prepare and tastes good ..
Stir-fried Snow Peas and Tomatoes
Quick and simple and super tasty. ..
Honey-Nut Granola
A wonderful cake / loaf for a wonderful breakfast. Very moreish. ..
Deviled Eggs
A good egg recipe for the buffet table. Quick and easy to make. ..
Milk Soup
One of my grans recipes. ..
Apple and Mint dip
A slimming world recipe that's not bad at all. ..
Red Lentil and Noodle Soup
To my mind this is a very exciting soup, if it is actually possible to have an exciting soup. ..
Spinach Dumplings
We have only tried this veggie recipe for Spinach dumplings the once, but we did enjoy them. Certainly a recipe we would recommend and will be trying again. ..
Vegetarian Sausages
Not a perfect recipe, not for a complete alternative to real sausages. But nice from time to time, okay as a munchie, and not bad with beans and mashed potato every now and then. ..