Popular Vegetarian Recipes
Vegetarian recipes, those looked at, requested and printed the most.
Root vegetable rosti with mixed mushrooms
You can use any root vegetable you have to hand. Try including wild mushrooms if you can. ..
Yacon Curry
Yacon curry for the slow cooker. I'd grown Yacon for the first time, and come autumn had no idea what to do with it. This is the recipe that came together and is pretty good. Tame enough that the kids ate without complaint too. Yacon has a very mild ..
Spinach Dip
A couldn't - be - any - simpler, Spinach dip recipe. ..
Blackberry banana smoothies
Super quick breakfast smoothie. ..
Spring Roll Wrappers
Easy pastry to make up your own spring rolls. ther method is easy, as are the ingredients, but there is a long chilling time, so you need to pan ahead. ..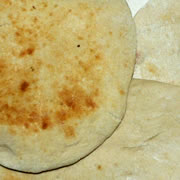 Homemade Naan Bread
I canít tell you how easy this was to make, and now I know Iíll be cooking these more often. I opted for plain; they rose wonderfully in the middle. The first batch browned nicely, the second got a little singed while I was a little distracted, but e ..
Sun Dried Tomato Gravy
A vegetarian gravy with a different taste. Goes well with herby dishes, such as a roast dinner with a herb nut roast. Or some of the dryer vegetarian roasts - those cardboard things where you wonder why you bought them! ..
Anchovy Sauce
Wonmderful anchovy sauce recipe to be served with linguine. ..
Asparagus Pissaladiere
A delicious tart, hot or cold, and especially good for a picnic! ..
Green rice
Something a little different, try a change to boiled rice with your veggie curries and whatnot, it doesn't take any longer to cook. ..
Spinach And Artichoke Dip
A different vegetarian dip for those special occaisions. The spinach and artichike work well together and make a great dip for the tortilla crips. ..
Paprika Potato Cakes
Works as both side dish and starter, or cold for lunch the next day. Salad and mayo works well with these potato cakes. ..
Slow Cooker Sweet & Sour Quorn
Not a perfect sweet and sour, but about as easy and simple as you can get. Serve with rice. ..
Maple Oatmeal Raisin Bread
You can substitute maple syrup for molasses or sugar or honey in any bread, but here's one with a maple glaze, from Quebec. ..
French Toast Cheddar Sandwiches
A variation on what my Gran would cook for us kids, and call Eggy Bread. The addition of mustard gives the recipent a nice tang and a more mature taste. ..
Freezer French Toast
If you ever have french bread go hard on you, here is a veggie recipe to try, other than dipping in your favourite soup! ..
Rice and Green-Pea Soup
Another simple soup recipe for veggies. ..
Vegetable rice medley
Like a home made savoury rice .. just very straight forward. ..
Chive Blossom Vinaigrette
This is fantastic with salads. If you wish you can add some dandelion petals. It needs to be used the same day due to the egg yolk. ..
Indian Chutney
Indian Chutney, an accompaniment to lots of South Indian dishes & snacks. Experiment with the proportions, that's the best way to learn with Indian recipes. ..
Blue Strawberry Smoothie
Another super quick breakfast smoothie. ..
Pasta Stuffed Peppers
Serve with a side salad. ..
Spinach & Ricotta in Filo parcels
Brownie point-earning Vegetarian party food ..
Turnip and Rice Soup
You're looking at the vegetable tray, at the turnips you bought on a whim and are wondering, okay what do I do with you? ... read on .. ..
Strawberries And Spiced Honey
Wild honey spiced with chipotle chile powder and lemon juice, drizzled over chilled strawberries. Taste sensation! ..
Black-eyed Beans with Curry Dressing
Nice use for the black-eye beans that have been in the cupboard for a while. I serve with a side salad and/or small new potatoes. ..
Mushroom & Chestnut Pudding
Long winded slow cooker meal, but well worth the effort for special occaisions or a rich treat. ..
Lentil Cakes with Nopalito Cactus Tequila Salsa
I've written the ingredients as per the original recipe, but I've never been able to find Nopalito cactus in the UK, so I experiment with whatever the veg shop has in thats different, it usually works. ..
Parmesan and Cracked Pepper Grissini
A coffee time treat. ..
Spinach Artichoke Heart Dip
Dairy-free. Spinach, beans, artichokes. Dip has bits of artichoke in a spinach and herb puree. Delicious with crudites or crackers; as appetizer or snack. Good as sauce for turnovers; falafel. ..