Popular Vegetarian Recipes
Vegetarian recipes, those looked at, requested and printed the most.
Chinese style spinach tofu
The dish cooks really quickly, so it is a good idea to have all the ingredients prepared ready. ..
Rice and Green-Pea Soup
Another simple soup recipe for veggies. ..
Indian Chutney
Indian Chutney, an accompaniment to lots of South Indian dishes & snacks. Experiment with the proportions, that's the best way to learn with Indian recipes. ..
Black-eyed Beans with Curry Dressing
Nice use for the black-eye beans that have been in the cupboard for a while. I serve with a side salad and/or small new potatoes. ..
Strawberries And Spiced Honey
Wild honey spiced with chipotle chile powder and lemon juice, drizzled over chilled strawberries. Taste sensation! ..
Quorn Chicken Style Pieces Tetrazzini
Relatively easy quorn dish that works well, I usually serve with a bed of brown rice. ..
Turnip and Rice Soup
You're looking at the vegetable tray, at the turnips you bought on a whim and are wondering, okay what do I do with you? ... read on .. ..
Spinach Artichoke Heart Dip
Dairy-free. Spinach, beans, artichokes. Dip has bits of artichoke in a spinach and herb puree. Delicious with crudites or crackers; as appetizer or snack. Good as sauce for turnovers; falafel. ..
Pasta Stuffed Peppers
Serve with a side salad. ..
Rhubarb Crumble
Easy and rather good Rhubarb Crumble recipe. ..
Vegetable rice medley
Like a home made savoury rice .. just very straight forward. ..
Layered Bean Dip
Another avocado dressing that offers veggies a decent alternative to the ever present guacamole. ..
Oaty honey biscuits
Way fast, easy to make, Oat & honey biscuit recipe - and taste way good too ..
Lentil Cakes with Nopalito Cactus Tequila Salsa
I've written the ingredients as per the original recipe, but I've never been able to find Nopalito cactus in the UK, so I experiment with whatever the veg shop has in thats different, it usually works. ..
Parmesan and Cracked Pepper Grissini
A coffee time treat. ..
Veggie Dumplings
Very light, suet-free dumplings to go with stews and other saucy meals. ..
Deluxe Angel Food Cake
Very light angel cake ..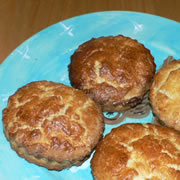 Dinas Scones
Dina's scone recipe, or one of them at least. Perfect every time with a little practice. ..
Mushroom & Chestnut Pudding
A slow cooker recipe taken from a book I was given for Christmas. Very tasty, bit longwinded but worth the effort. ..
Terrific Eggplant
Virtually fat free eggplant. ..
Potato & Onion Tortilla
A Spanish dish that can be served hot or cold. ..
Naan Bread
Just the best Naan recipe I've found yet. You can add other fillings to vary it a little; garlic etc. ..
Sorrel Soup
Nice straight forward sorrel soup recipe. ..
Quorn Spring Rolls with Chilli & Coriander Dipping Sauce
Spring rolls are usually high in fat as they're deep fried, but this light oil brush and bake option reduces their fat content considerably. ..
Vegetarian Cheese Souffle
Calling all cheese lovers! This is a recipe for a delicious cheese pie, which is actually a recipe I learned from my mum. Whenever I make it, the smells from the kitchen remind me of her and her delicious cooking. It's a quite simple recipe and can b ..
Triple Corn Fritters
A taste of the USA with this corn fritter receipe suitable for vegetarians everywhere. ..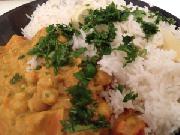 Peanut butter curry
It sounds crazy, and it shouldn't work, yet somehow it does. This recipe is a must-try for all peanut butter fans, or for those wanting to try something a bit more creative in the kitchen. It's a guilt free treat too, as the peanut butter and chickpe ..
Sun-dried Tomato & Rosemary Bread
Excellent when served warm, still scrumptious when cold and fresh. Good with soups and other dishes, or as a light lunch on its own. ..
Tofu Veggie Curry
I love everything curry, tried this one and can recommend. ..
Parsnip and Parmesan Bruschetta
Super easy Italian snack favourite ..