Popular Vegetarian Recipes
Vegetarian recipes, those looked at, requested and printed the most.
Terrific Eggplant
Virtually fat free eggplant. ..
Kashmiri style slow cooker veggie curry
I adapted the recipe to a veggie version from a more traditional lamb recipe; the spices and other ingredients are exact to a recipe that's been passed on for generations. Tweaking it slightly here and there, this is the version that comes out fantas ..
Layered Bean Dip
Another avocado dressing that offers veggies a decent alternative to the ever present guacamole. ..
Parmesan and Cracked Pepper Grissini
A coffee time treat. ..
Parsnip & Chickpea Curry
Very nice veggie curry, using all the individual spices proves far, far better than any ready to go curry sauce. ..
Veggie Dumplings
Very light, suet-free dumplings to go with stews and other saucy meals. ..
Triple Corn Fritters
A taste of the USA with this corn fritter receipe suitable for vegetarians everywhere. ..
Potato & Onion Tortilla
A Spanish dish that can be served hot or cold. ..
Carrot and Walnut Cake
A delicious carrot cake recipe for any time of the day .. for me anyway, especially with friends round :) ..
Cat's tongues biscuits.
Cat's tongues are a very delicate little biscuit that I used to make many years ago. They were also pretty good served with other deserts. I also used to wrap them around the handles of wooden spoons the minute they came out the oven, and they would ..
Tofu Veggie Curry
I love everything curry, tried this one and can recommend. ..
Strawberry Slush
Super breakfast strawberry slush. ..
Mixed Vegetable Stew with extra light dumplings
Nice, easy, straightforward vegetable stew with very light veggie dumplings. Ingredients are very fluid, just use what vegetables you have, or need using up. ..
Courgette and Nut Roast
The problem with most nut roasts is that they end up dry, hard to eat challenges that need loads of gravy. Not so with this nut roast recipe, the courgette and fruits ensure a moist, slightly firm nut roast packed full of flavour. ..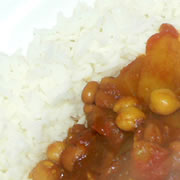 Potato and Chick Pea Curry
Light curry, serve with brown rice. Recently tried this one, but with only one tin of chickpeas in the cupboard, so subbed one with a tin of black eyes beans. Needed a bit more liquid in the sauce. ..
Dutch Stuffed Monkeys
Very tasty biscuit - mini-cake recipe. Great for lunch boxes and party snack dish ..
Chapatis (Indian flatbread)
A perfect bread to accompany most Indian dishes. ..
Orange Peach Smoothie
And another super quick breakfast smoothie. ..
Mushroom & Chestnut Pudding
A slow cooker recipe taken from a book I was given for Christmas. Very tasty, bit longwinded but worth the effort. ..
Tofu and Pepper Stuffed Cabbage Rolls
Garlic and tomato flavoured cabbage leaves ..
Tomato and Onion Cachumbar
One of those wonderful Indian side dishes that go with the Naan breads and anything else for that matter. Exceptionally easy and a great accompaniment. ..
Oaty honey biscuits
Way fast, easy to make, Oat & honey biscuit recipe - and taste way good too ..
Mixed Fruit Chutney
A sweet and sour type chutney, makes enough to fill several jars. ..
Saffron Popcorn
Movie time treat ..
Quorn Spring Rolls with Chilli & Coriander Dipping Sauce
Spring rolls are usually high in fat as they're deep fried, but this light oil brush and bake option reduces their fat content considerably. ..
Garlic Potato Cakes
Nice to serve as part of a vegetarian main meal - try a little tomato salsa with these. ..
Traditional Chocolate Layer Cake
Really old recipe for a layered chocolate cake. ..
Deluxe Angel Food Cake
Very light angel cake ..
Saag Aloo
Perfect Sag Aloo to accompany a wide range of Indian dishes ..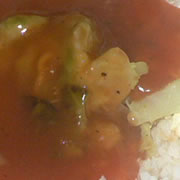 Sweet and Sour Cabbage
I'm a big lover of all sweet and sour dishes ..