Popular Vegetarian Recipes
Vegetarian recipes, those looked at, requested and printed the most.
Plum Crumble
Good crumble recipe that can be adapted to suit other fillings and toppings. You can substitute the plums for almost any fruit; rhubarb, apple, gooseberries, blackberries etc. You can also substitute the rolled oats with muesli to produce a much crun ..
Roasted Fennel
Iíve had fennel from veg boxes in the past and been at a loss to know what to do with them, this is one of the recipes Iíve come across that works well, though Fennel is still something of an acquired taste. ..
Saag Aloo
Perfect Sag Aloo to accompany a wide range of Indian dishes ..
Naan Bread
Just the best Naan recipe I've found yet. You can add other fillings to vary it a little; garlic etc. ..
Traditional Chocolate Layer Cake
Really old recipe for a layered chocolate cake. ..
Onion Rings
Homemade onion rings ..
Brown Rice, Pineapple, Peanut & Red Pepper Salad
Rice salad dish for when or if we have a summer :) ..
Guacamole
Just mix the ingredients together in a bowl. ..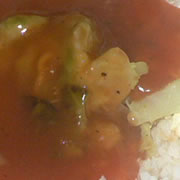 Sweet and Sour Cabbage
I'm a big lover of all sweet and sour dishes ..
Apple Sauce
Very simple apple sauce recipe. Full flavour accompaniment to go with a vegetarian roast dinner. ..
Chinese style spinach tofu
The dish cooks really quickly, so it is a good idea to have all the ingredients prepared ready. ..
Potato Wedges
Excellent buffet choice, side dish for evenings, starter too. ..
Quick Peanut Sauce
Quick peanut sauce to accompany a range of oriental and Indian dishes ..
Sunflower Wheat Loaf
A lot of effort, but well worth it for a lovelly home made loaf. ..
Malay Style Fried Noodles
A favourite amongst many locals in Malaysia; a spicy & tangy noodle dish complemented by the sweet taste of shrimp and cabbage and cooled with a cucumber garnish. Perfect for lunch or dinner ..
Bees Kneees Gingerbread
Mums most excellent Ginger cakes, childhood on the tastebuds ..
Pizza Sauce
Nice basil and garlic hinted sauce to spread on homemade pizzas and can be used with various pasta dishes. If kept in a sealed plastic container in the fridge, it can be kept for up to two weeks. ..
Tomato Salsa
Just mix the Tomato Salsa ingredients together in a bowl. ..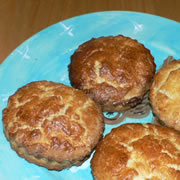 Dinas Scones
Dina's scone recipe, or one of them at least. Perfect every time with a little practice. ..
Sweet n Sour Tea Sauce
This a versatile multipurpose sauce that is great with a variety of dishes. Steep quorn or vegetables before baking to add a little zing. Or use it as a dipping sauce or as a salad dressing. ..
Perfect Breakfast Mushrooms
Having the cooked breakfast? Veggie or otherwise. Really nice mushrooms are one of the ingredients that make a cooked breakfast into a fantastic cooked breakfast. This is my method and on the few occasions Iíve had occasion top cook breakfast for fri ..
Quorn Semur Daging
The smooth combination of clove, nutmeg and cinnamon gives this dish a really distinctive Malaysian flavour. Serve with boiled rice. ..
Spicy Lentil Soup
Spicy lentil soup recipe, making a nice thick soup. ..
Chilli & Coriander Dipping Sauce
Easy veggie dipping sauce to accompany a range of other vegetarian dishes. ..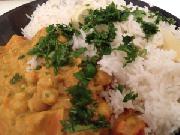 Peanut butter curry
It sounds crazy, and it shouldnít work, yet somehow it does. This recipe is a must-try for all peanut butter fans, or for those wanting to try something a bit more creative in the kitchen. Itís a guilt free treat too, as the peanut butter and chickpe ..
Vegetarian Cheese Souffle
Calling all cheese lovers! This is a recipe for a delicious cheese pie, which is actually a recipe I learned from my mum. Whenever I make it, the smells from the kitchen remind me of her and her delicious cooking. It's a quite simple recipe and can b ..
FullyRaw Pumpkin Pie
You haven't tried Pumpkin Pie until you have tried my magical FullyRaw Pumpkin Pie! It's all-raw, low-fat, and SUPER sweet! This raw vegan recipe is the ultimate holiday pie to share with family and friends! ..
Raspberry & Lemon Muffins
Simple muffin recipe ..
Herby Yoghurt Dressing
Herby Yoghurt Dressing ..
Rhubarb Crumble
Easy and rather good Rhubarb Crumble recipe. ..