Lemony Lemon Cheesecake
Super-dooper lemony lemon cheesecake, a really easy recipe, takes very little time and tastes wow. ..
Tomato and Onion Cachumbar
One of those wonderful Indian side dishes that go with the Naan breads and anything else for that matter. Exceptionally easy and a great accompaniment. ..
Perfect Breakfast Mushrooms
Having the cooked breakfast? Veggie or otherwise. Really nice mushrooms are one of the ingredients that make a cooked breakfast into a fantastic cooked breakfast. This is my method and on the few occasions Iíve had occasion top cook breakfast for fri ..
Plum Crumble
Good crumble recipe that can be adapted to suit other fillings and toppings. You can substitute the plums for almost any fruit; rhubarb, apple, gooseberries, blackberries etc. You can also substitute the rolled oats with muesli to produce a much crun ..
Garlic Potato Cakes
Nice to serve as part of a vegetarian main meal - try a little tomato salsa with these. ..
Quorn Semur Daging
The smooth combination of clove, nutmeg and cinnamon gives this dish a really distinctive Malaysian flavour. Serve with boiled rice. ..
Sunflower Wheat Loaf
A lot of effort, but well worth it for a lovelly home made loaf. ..
Saag Aloo
Perfect Sag Aloo to accompany a wide range of Indian dishes ..
Veggie Dal
Super easy slow cooker dal, one pot cooking can't be beaten. Serve with rice - Quick Lush Pilaf Rice recipe is ideal ..
Mixed Fruit Chutney
A sweet and sour type chutney, makes enough to fill several jars. ..
Sweet n Sour Tea Sauce
This a versatile multipurpose sauce that is great with a variety of dishes. Steep quorn or vegetables before baking to add a little zing. Or use it as a dipping sauce or as a salad dressing. ..
Tofu and Pepper Stuffed Cabbage Rolls
Garlic and tomato flavoured cabbage leaves ..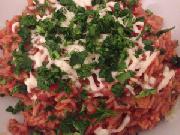 Red wine risotto
Full-bodied red wine perfectly complements the tomato sauce providing a tasty yet unusual dish. This super simple recipe demonstrates that there is more to risotto than mushrooms and white wine Ė and is ready in no time with ingredients you probably ..
Scotch Pancakes
My mums recipe for scotch pancakes ..
Quick Lush Pilaf Rice
Made it a few times now, it gets the big thumbs up from the whole family. (Even if the kids wont try the curry it gores with). You can vary the recipe a little; it doesnít hurt, as long as the ingredients are cut small. ..
Homemade Ketchup
Your own ketchup without the high fructose corn syrup and whatever else. You will need a liquidiser, keep it in the fridge and it will last a fortnight. ..
Onion Rings
Homemade onion rings ..