Popular Vegetarian Recipes
Vegetarian recipes, those looked at, requested and printed the most.
Herby Yoghurt Dressing
Herby Yoghurt Dressing ..
Raspberry & Lemon Muffins
Simple muffin recipe ..
Tomato & Avocado Dipping Sauce
Goes with a lot of dishes. ..
Sauté New Potatoes
Just a potato dish to go alongside any other veggie main course ..
Jennies Fried Tomatoes.
Either a side dish or starter, tastes fantastic with your own home grown tomatoes. ..
Perfect pizza dough
This recipe pretty much from Hugh Fearnley-Whittingstall's River Cottage Every Da ..
Creamed Artichokes.
Never having had artichokes, and being given some by a friend, this is the recipe found, tried and thought okay. ..
Lemony Lemon Cheesecake
Super-dooper lemony lemon cheesecake, a really easy recipe, takes very little time and tastes wow. ..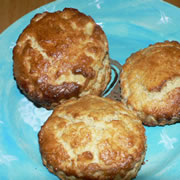 Dinas Scones 2
Dina's second scone recipe, or one of them at least. Perfect every time with a little practice. ..
Tropical Berry Smoothie
And another super quick breakfast smoothie. ..
Quorn Chicken Style Pieces Tetrazzini
Relatively easy quorn dish that works well, I usually serve with a bed of brown rice. ..
Stir Fried Peas with Lentil Sprouts & Leeks
Easy veggie dish, serve with a little rice and any from a range of side / dipping sauces ..
Tricolored Pepper Sauté
Colourful side dish, to accompany other veggie dishes. ..
More-ish Thousand Layer Cake
I made this as part of an evening course at college. It is a bit long winded, heavy on eggs, but blimey it is also very, very more-ish. ..
Beetroot and Potato Gratin
Rather easy Beetroot side dish, or the main in our house with a few other vegetables. ..
Wild Rice & Egg Scramble
Tasty rice dish to accompany other oriental or Asian main meals ..
Quick Lush Pilaf Rice
Made it a few times now, it gets the big thumbs up from the whole family. (Even if the kids wont try the curry it gores with). You can vary the recipe a little; it doesn't hurt, as long as the ingredients are cut small. ..
Sweet Potato Casserole
Rather easy sweet potato casserole, can seem a little time consuming but worth the effort, and can be got ready in advance and finished off as you need. ..
Veggie Dal
Super easy slow cooker dal, one pot cooking can't be beaten. Serve with rice - Quick Lush Pilaf Rice recipe is ideal ..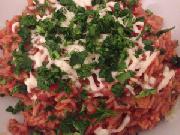 Red wine risotto
Full-bodied red wine perfectly complements the tomato sauce providing a tasty yet unusual dish. This super simple recipe demonstrates that there is more to risotto than mushrooms and white wine – and is ready in no time with ingredients you probably ..
Homemade Ketchup
Your own ketchup without the high fructose corn syrup and whatever else. You will need a liquidiser, keep it in the fridge and it will last a fortnight. ..
Tofu BBQ Skewers
I like this recipe because nothing can really taste bad once it's been BBQed and got a little sauce on it. It's easy to prepare, all fresh ingredients, and oh so healthy. Oh, and the kids will eat it too! ..
Felicity's perfect wholemeal bread
It has taken me a long time to find a really good Wholemeal Bread recipe or method. Given up more than once, but came across this recipe and wow it works, and pretty easy to boot. Recording it here so I can find it again. Made it twice, and both time ..
Parsnip and Parmesan Bruschetta
Super easy Italian snack favourite ..
Chip Shop Curry Sauce
Replicating the medium-hot Chinese Curry Sauce that is available from Chinese Take-away Restaurants and Chip Shops up and down the country. ..
Grilled Sweetcorn with Lime Butter
Lush little side dish. ..
| | | |
| --- | --- | --- |
| Previous | Popular Recipes 421 - 446 of 446 | |