Popular Vegetarian Recipes
Vegetarian recipes, those looked at, requested and printed the most.
Guacamole
Just mix the ingredients together in a bowl. ..
Veggie Dal
Super easy slow cooker dal, one pot cooking can't be beaten. Serve with rice - Quick Lush Pilaf Rice recipe is ideal ..
Quick Lush Pilaf Rice
Made it a few times now, it gets the big thumbs up from the whole family. (Even if the kids wont try the curry it gores with). You can vary the recipe a little; it doesn't hurt, as long as the ingredients are cut small. ..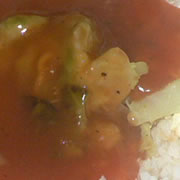 Sweet and Sour Cabbage
I'm a big lover of all sweet and sour dishes ..
Tricolored Pepper Sauté
Colourful side dish, to accompany other veggie dishes. ..
Malay Style Fried Noodles
A favourite amongst many locals in Malaysia; a spicy & tangy noodle dish complemented by the sweet taste of shrimp and cabbage and cooled with a cucumber garnish. Perfect for lunch or dinner ..
Tofu BBQ Skewers
I like this recipe because nothing can really taste bad once it's been BBQed and got a little sauce on it. It's easy to prepare, all fresh ingredients, and oh so healthy. Oh, and the kids will eat it too! ..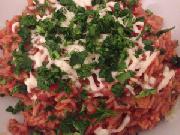 Red wine risotto
Full-bodied red wine perfectly complements the tomato sauce providing a tasty yet unusual dish. This super simple recipe demonstrates that there is more to risotto than mushrooms and white wine – and is ready in no time with ingredients you probably ..
Quick Peanut Sauce
Quick peanut sauce to accompany a range of oriental and Indian dishes ..
Tomato Salsa
Just mix the Tomato Salsa ingredients together in a bowl. ..
Chilli & Coriander Dipping Sauce
Easy veggie dipping sauce to accompany a range of other vegetarian dishes. ..
Perfect pizza dough
This recipe pretty much from Hugh Fearnley-Whittingstall's River Cottage Every Da ..
Spicy Lentil Soup
Spicy lentil soup recipe, making a nice thick soup. ..
Yoghurt raita
Easy and very lovely side dish for a multitude of Indian Dishes ..
Herby Yoghurt Dressing
Herby Yoghurt Dressing ..
Raspberry & Lemon Muffins
Simple muffin recipe ..
Jennies Fried Tomatoes.
Either a side dish or starter, tastes fantastic with your own home grown tomatoes. ..
Tomato & Avocado Dipping Sauce
Goes with a lot of dishes. ..
Creamed Artichokes.
Never having had artichokes, and being given some by a friend, this is the recipe found, tried and thought okay. ..
Sauté New Potatoes
Just a potato dish to go alongside any other veggie main course ..
Felicity's perfect wholemeal bread
It has taken me a long time to find a really good Wholemeal Bread recipe or method. Given up more than once, but came across this recipe and wow it works, and pretty easy to boot. Recording it here so I can find it again. Made it twice, and both time ..
Tropical Berry Smoothie
And another super quick breakfast smoothie. ..
Stir Fried Peas with Lentil Sprouts & Leeks
Easy veggie dish, serve with a little rice and any from a range of side / dipping sauces ..
Wild Rice & Egg Scramble
Tasty rice dish to accompany other oriental or Asian main meals ..
Chip Shop Curry Sauce
Replicating the medium-hot Chinese Curry Sauce that is available from Chinese Take-away Restaurants and Chip Shops up and down the country. ..
Grilled Sweetcorn with Lime Butter
Lush little side dish. ..
| | | |
| --- | --- | --- |
| Previous | Popular Recipes 421 - 446 of 446 | |