Popular Vegetarian Recipes
Vegetarian recipes, those looked at, requested and printed the most.
Tofu Burgers
Tofu Burgers - For a more intense flavor, you can skip step 2 and just add the raw ingredients to step 3 -For a yummy twist, try using a herbed or seaweed tofu. ..
Mint Hollandaise Sauce
A wonderful little sauce that goes well with chargrilled vegetables. ..
Black Bean Soup With Cumin
This is a recipe my sister used when we visited the once. She does have a way with cooking that I've never had. I liked this one. ..
Baileys Black Bean Soup
Makes about 3 quarts or 10 to 12 servings of an exceptionally good Black Bean soup. ..
Oatmeal Bannocks
If I cook too much porridge this is the recipe I will use to use it up. Yum b' yum. I can eat a plateful on my own. ..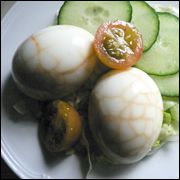 Crazy Paved Eggs
A very, very simple recipe that gives very cool and crazy looking boiled eggs for salads, buffets, picnics and anywhere else you'll want a boiled egg! ..
Homemade Noodles
Sometimes the speed in which you can make home made noodles and pastas, makes you wonder why we bother with packets of the dried stuff - especially when you compare taste and texture. ..
Potato Souffle
We've had both success and failure with this dish, but enjoyed both. It can work well as a main course served with salad, or light vegetables. ..
Strawberry Yogurt Filled Crepes
A tasty alternative to just lemon and sugar on your pancakes. ..
Sesame Noodles with Fresh Vegetables
Big portion recipe for a rather tasty sesame noodles. ..
Zucchini and Mushroom Salad
A simple salad that's a little more adventurous than chopped lettuce and tomato. ..
Macaroni Cheese
A macaroni cheese recipe that works well for me. Another good vegetarian recipe with pasta at the core. ..
Egg Noodles
Excellent veggie egg noodles for to accompany a wide selection of vegetarian dishes and recipes. ..
Vegetable Balti
A very authentic tasting Indian Balti recipe. It did require a few spices I don't normally have in the cupboard, but they are all spices I look forward to trying again. ..
Rice Krispies Treats
As simple recipe you can make with the kids. ..
Mushroom & Chestnut Pudding
Long winded slow cooker meal, but well worth the effort for special occaisions or a rich treat. ..
Haricot Soup
A very straight forward vegetarian soup recipe, like all pulse recipes it needs forward planning as dried haricot beans need soaking overnight first. A filling, warming soup recipe. ..
Spinach Bake
Super simple spinach bake, mix everything and bake for 20-25 minutes. A very healthy vegetable dish. ..
Manicotti with Cheese Filling
A nice change from the usual veggie bolognaise, the mixture of cheeses does offer a very Italian taste sensation. ..
Tofu Spaghetti Surprise
I was put off tofu at an early stage in my vegetanariansm, but this is one of the few tofu recipes I can not only cope with, but thoroughly enjoy. ..
Samosa by Sunita
A favorite tea time snack in India, samosa is also a very popular item on the menu in many a Indian restuarant worldwide. Served with mint chutney on the side, this snack is sure to warm all hearts. ..
Nanas Gingerbread and Molasses Cookies
A real taste from my childhood. I think this is one of those passed down recipes, and I'm glad my Nan wrote it down for me. ..
Tofu And Barley Stew With Winter Squash
We all love comfort foods - you know the ones, creamy, thick and rich and they make you feel so good, you want to snuggle up with your bowl and shut out the world .. and its accompanying stress and tension. This smooth, silky barley stew laden with v ..
Lentil Soup 2
My favorite lentil soup recipe. ..
Lyonnaise Potatoes
A potato dish for when you want something plain and a little different. ..
Pea Soup
A slow cooking recipe for pea soup. A memorable winter warmer. Best with crusty bread and generous with a good margerine. ..
Seafarer's Pasta Salad
One of my favourite salads for the buffet table. ..
Chocolate Dipped Strawberries
Luxury for the tastebuds .. these are sooooo goooood. :-) ..
Tea Cakes
Tea cakes, yes those buttered muffin things you get in tea shops ... you can smell this already can't you! ..
Orange Mould
An old recipe that uses natural ingredients, and one the kids often give the thumbs up. ..