Popular Vegetarian Recipes
Vegetarian recipes, those looked at, requested and printed the most.
Butternut Squash Casserole
When you have a butternut squash and you're looking at it, and wondering 'what the heck do I do with this?' ... ..
Potato Cakes
A fairly straight forward recipe, and one we often cook up for the kids when they come in from school with friends, to tide them over. ..
Batter Potato
Anything in batter is highly unfashionable for home cooking because it immediately brings deep fried and unhealthy oil to mind. This potato batter recipe is more like toad in the hole, and a tasty batter cooked in the oven need not be that bad. ..
Aubergine Casserole
Aubergine casserole, that would be Eggplant for the Americans. Works well. ..
Cauliflower & Potato Curry
Large portion recipe for cauliflower and potato curry .. ideal for all veggies .. Serve over white or brown rice. ..
Broccoli & Pasta Sauce
A broccoli dish that sounds a little fancier than it is. Nice for when you want something a little different. ..
Awesome Basil Risotto
For when you've got the time and inclination to cook, this recipe can be prepared in 45 minutes or less. ..
Chow Mein - Fried Noodles & Vegetables
Ever popular from the Chinese takeaway, you can try this wonderful vegetarian chow mein recipe at home. ..
Couscous and Lentil Casserole
Very filling, easily adaptable casserole with every vegetarians stalwart lentils. ..
Most Excellent Veggie Chili
One of the better meatfree chili recipes for vegetarians. Served with a wholemeal rice, or rounds of buttered fresh bread. ..
Cajun Quorn Burgers with Salsa
Another recipe for the ever diverse qourn, with a full cajun taste. ..
Tosset cake
The Tosset Cake recipe featured-rescued on Jamie Oliver and Jimmy Dohertys program Friday Night Feasts. Saving it here as it is one I intend to try as soon as I locate some caraway seeds. ..
Enchiladas
Make Mexican enchiladas for the whole family ..
Veggie Hungarian Goulash
A vegetarian slant on the Hungarian dish the Hungarians seem to have never heard of. Works well though, another of the favourites. ..
Black Bean Chili
This recipe is amazing .. It is excellent over rice, plain with bread or over potatoes. ..
Low Fat Carrot Cake
A low fat, low sugar, low on the sin scale carrot cake recipe. ..
Hot and Spicy Chick Peas
Much of the Indian population is vegetarian, and they enjoy the most extensive vegetable dishes in the world. This is not only because of the predominant Hindu religion with its respect for all living creatures. Also feeding 1 billion Indian people n ..
Quorn & Vegetable Pasta Bake
Makes an excellent light meal on its own, or serve with a side salad and crusty or garlic bread for a main meal. You can substitute thickly sliced aubergine for the quorn pieces if you would prefer. ..
Chicken Style Quorn Low Fat Fajitas
A vegetarian take on a low-fat dieting recipe that did originally use chicken prices. Substiuting the quorn pieces for the chicken needs you to amend your cooking times. ..
Cabbage Soup
Cabbage soup is supposed to be a good recipe for various diets, as cabbage soup contains a healthy selection of vitamins and minerals. But that doesn't mean it has to taste like a diet dish. ..
White Bean Pate With Tomato Relish
Something a little different for the buffet or as a starter for veggies all over. ..
Meatless Shepherd's Pie
Excellent meat free Shepherds pie. For a more substantial dish, you can add / substitute things like pre-cooked tofu, lentils or mushrooms. ..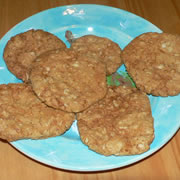 Abbey Crunch Biscuits
As mentioned on BBC Radio 4s food program of a sadly lost biscuit. Just wanting to rescue the recipe as closely as possible. Okay .. a seriously LOVELY biscuit, scores 10/10 from two of my kids. ..
Indian Dal
Any vegetarian lover of the Indian cuisine should always have a good and traditional Dal recipe in their repetoire .. ..
Vegetable Paella
A very filling vegetable Paella recipe. Serving immediately it is excellent, with a light salad on the side. However, it doesn't sit and wait for you too well. Don't try this one if you need it to hover on the hob while you wait for someone to arriv ..
Cauliflower Pie.
A cauliflower and potato pie recipe that goes well for Sunday dinner from time to time. We usually serve with a colourful vegetable like carrots and a jug of vegetarian gravy. ..
Butter Biscuits
Super simple butter biscuit recipe. You can of course substitute with a margerine of your choice. ..
Veggie Rounds
Theses are so yummy you won't be able to stop eating them! ..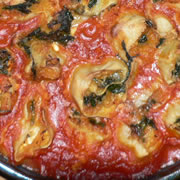 Squash & spinach pasta rotolo
A Jamie Oliver recipe, I made my own fresh pasta for this, which was a bit of a first. Marathon dish to make, but lots of kudos at the table later. Lasted us a couple of days. You get crispy bits of pasta on the top, complemented by the softer past ..
Potato Hash (Potty Ash)
A veggie version of the corned beef hash my mother used to make, and that remains a strong memory of my childhood. A bit longwinded, but well worth the effort, especially on cold winter days. ..