Popular Vegetarian Recipes
Vegetarian recipes, those looked at, requested and printed the most.
Quorn Biryani
A one pot meal, very filling with the taste of India. One or two natural yoghurt based dips will go well with this vegetarian biryani dish ..
Potato Hash (Potty Ash)
A veggie version of the corned beef hash my mother used to make, and that remains a strong memory of my childhood. A bit longwinded, but well worth the effort, especially on cold winter days. ..
Leek and Potato Soup
A Leek and Potato soup recipe, for those cold winter days, when all you really want is a blanket, and to be curled up on the settee, with an old movie on the telly. ..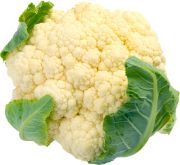 Cauliflower Au Gratin.
Cauliflower can be a love it, or hate it, vegetable. And 'Cauliflower cheese' has to be the most common recipe for cauliflower, this gratin recipe adds a more traditional twist. ..
Bombay Potatoes
Low fat version of bombay potatoes. All the flavour and no dieters guilt required.smrtovnice osmrtnice ..
Big Portion Chunky Meatless Chili
Cooking for larger numbers, this is the Meatless Chili recipe I used for those odd occaisons. Often too for a baked potato topping. ..
Carrot Soup
A fairly straightforward recipe for a vegetarian carrot soup. A little spicier than some I've tried for the inclusion of the mace and the celery too. ..
Quorn Samosas
Do you miss those little Samosas. Try a pretty good veggie samosa recipie. ..
Curried Rice and Tomatoes
A bit of student veggie recipe, one for when the budget is tight. Very filling, and warming on cold nights too. ..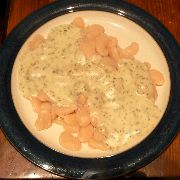 Butter Beans with Parsley Sauce
A straight forward veggie main course meal with one of my favourites; butter beans at the heart of the recipe. ..
Southeast Asian Vegetable Stock
A wonderful flavour adding stock for a wide range of Asian dishes. Stock can make the difference between a good soup and a great one. This recipe keeps for up to 4 days refrigerated and indefinitely frozen. ..
Quorn Tikka Masala
The ever popular Tikka Masala using Quorn pieces to make this a wonderful veggie recipe. ..
Lentil Burgers
These lentil burgers taste far better than they sound and are well worth trying. You can experiment a little by varying, adding or substuting some of the ingredients. ..
Lentil Soup
A more traditional lentil soup recipe, but suitable for vegetarians. ..
Lentil Moussaka II
This is from Scaravelli and Cohen's 'A Mediterranean Harvest.' They say it is 'better than the traditional one.' That's a tough claim to substantiate, but it is very good. It re-heats pretty well and is especially good, in my opinion, with the becha ..
Spinach Timbales
A super recipe for spinach :o) ..
Malvern Pudding
An old pudding recipe, not one I've seen for a while. We don't have this one very often, but we enjoy this wonderful fruity pudding when we do. ..
Clear Soup with Dumplings
A fairly straightforward vegetable soup with dumplings. You can liquidise keeping the vegetables for a thicker, fuller flavour veggie soup. ..
Lemon Biscuits
Easy peasy lemon biscuits. I believe the original recipe, now quite old, used dripping instead of margerine. But being vegetarian, I substitute with a good hard baking margerine, and the recipe seems to work just as well. ..
Baking Powder Biscuits
Baking Powder Biscuits, Buttermilk Biscuits, Cheese Biscuits, Cornmeal Biscuits and Drop Biscuits can all be made with this easy recipe. ..
Barley Soup
A great winter soup for veggies. ..
Chestnut Pie
A rare treat for November and December when chestnuts are everywhere. ..
Carrot Soup 2
A nice and simple carrot soup recipe. ..
Spinach and Feta Stuffed potatoes
Another excellent potato recipe, devised for the vegetarian palet. Yum Yum. ..
Cauliflower Soup
A nice and basic cauliflower soup recipe for veggies everywhere. ..
Vegetarian Curry
A colourful veggie curry that hits the spot, and only takes about half an hour to make all told. You can also add different vegetables or drop others according to what you've got available. You just need to keep the coconut cream handy in the cupboar ..
Cheese and Potato Bake
A super easy potato dish that goes well for outside night time eating, such as Halloween or bonfire Night .. alongside the roast chestnuts ..
Cabbage Soup - French
I think this is an older recipe than most for cabbage soup, it goes down well, and has plenty of the healthy stuff for a pick-me-up when you're under the weather. ..
veggie risotto
This is a nice dish, easy to make and worth the effort. ..
Broccoli Pakoda
I experimented and really liked it .. hope you all do too ..