Recently Added Vegetarian Recipes
Recently added vegetarian recipes.
Tomato Spinach Dal
Itís a common Indian household recipe, which is taken along with rice. Easy to prepare and tastes good ..
Enchiladas
Make Mexican enchiladas for the whole family ..
Potato Hash (Potty Ash)
A veggie version of the corned beef hash my mother used to make, and that remains a strong memory of my childhood. A bit longwinded, but well worth the effort, especially on cold winter days. ..
veggie risotto
This is a nice dish, easy to make and worth the effort. ..
Impossible Pumpkin Pie
If you are in a hurry and want a quick and easy pumpkin dessert, this is a perfect recipe. ..
Rhubarb upside down cake
Rhubarb upside down cake .. yum, double yum! ..
Sweet Potato Croquettes
Super sweet croquettes. ..
Tomato Soup
Ever popular tomato soup ..
Spinach Artichoke Heart Dip
Dairy-free. Spinach, beans, artichokes. Dip has bits of artichoke in a spinach and herb puree. Delicious with crudites or crackers; as appetizer or snack. Good as sauce for turnovers; falafel. ..
Southwestern Corn And Potato Soup
A low-fat recipe, the onions are not sauteed first. ..
Southeast Asian Vegetable Stock
A wonderful flavour adding stock for a wide range of Asian dishes. Stock can make the difference between a good soup and a great one. This recipe keeps for up to 4 days refrigerated and indefinitely frozen. ..
Quorn Tikka Masala
The ever popular Tikka Masala using Quorn pieces to make this a wonderful veggie recipe. ..
Quorn Bolognese
A family favourite made easy. Delicious Quorn Mince is so versatile... ..
Quorn and Mushroom Stroganoff
Tasty family recipe using the ever versatile Quorn pieces ..
Potato Masala
Potato Masala, an accompaniment to Dosai, Chapati, etc. ..
Vegetarian Garlic Chicken
Heart Healthy Meatless Meal. ..
Stir-Fried Vegetarian Orange Beef
Moderately sweet yet tangy meatless meal. The perfect entree over rice. ..
Spinach Timbales
A super recipe for spinach :o) ..
Apple Crisp
One of my favorite desserts. ..
Zucchini Bread
Extra simple and full flavour Zucchini Bread recipe. ..
White Bean Pate With Tomato Relish
Something a little different for the buffet or as a starter for veggies all over. ..
Yellow Split Pea Soup
A family favourite .. ..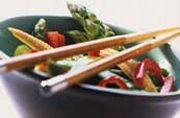 Asparagus and Vegetable Stir Fry
I think this recipe was from the British Asparagus Growers Association. We tried it and like it! ..
Wheat Germ Burgers
A good burger alternative. Little long in the making but generally worth the effort for larger numbers. ..
Warm Wild Rice And Asparagus Salad
A wonderful warm salad recipe. ..
Tofu And Barley Stew With Winter Squash
We all love comfort foods - you know the ones, creamy, thick and rich and they make you feel so good, you want to snuggle up with your bowl and shut out the world .. and its accompanying stress and tension. This smooth, silky barley stew laden with v ..
Thai Aubergine Sates
A wonderful thai recipe to kickm start any thai vegetarian meal. ..
Rich Tomato Bread
I love the different types of bread, and there's little better than homemade bread. This tomato bread recipe is one of my faves. ..
Strawberry Rhubarb Coffee Cake
Big taste cake that never fails to satisfy. ..
Chocolate Chip Cookies
Chocolate Chip Cookies what else needs to be said ... hmmm! ..