Vegetarian Recipes Matching : lentil
Couscous and Lentil Casserole
Very filling, easily adaptable casserole with every vegetarians stalwart lentils. ..
Green Lentil Vegetarian Chilli
Green Lentil Chilli, mild works so well. ..
Indian Dal
Any vegetarian lover of the Indian cuisine should always have a good and traditional Dal recipe in their repetoire .. ..
Lentil & Rice Soup
A simple soup that can be adapted to taste. Like adding at least another cup of veggies - like chopped carrots or zucchini. I've also added a bit of curry and it was very tasty. Play with it! ..
Lentil Burgers
These lentil burgers taste far better than they sound and are well worth trying. You can experiment a little by varying, adding or substuting some of the ingredients. ..
Lentil Cakes with Nopalito Cactus Tequila Salsa
I've written the ingredients as per the original recipe, but I've never been able to find Nopalito cactus in the UK, so I experiment with whatever the veg shop has in thats different, it usually works. ..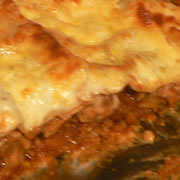 Lentil Lasagne
A very good, and relatively simple vegetarian lasagna recipe using lentils. This is one recipe the kids will eat without a single moan. ..
Lentil Moussaka II
This is from Scaravelli and Cohen's 'A Mediterranean Harvest.' They say it is 'better than the traditional one.' That's a tough claim to substantiate, but it is very good. It re-heats pretty well and is especially good, in my opinion, with the becha ..
Lentil Noodle soup
I didnt add the noodles and it was still great! Really,Really good recipe! ..
Lentil Rissoles
A delicate vegetarian rissole recipe, with the ever-versatile lentil at the heart of the dish. As with all pulses it does take some time to cook, so I often combine this with another long-winded dish to make the most of my time. ..
Lentil Soup
A more traditional lentil soup recipe, but suitable for vegetarians. ..
Lentil Soup 2
My favorite lentil soup recipe. ..
Lentil Soup 3
I havent really been one to post recipes, but, there are a few which I have enjoyed so much over the years, and which I have wanted to post for quite some time. ..
Lentil Turnovers
An excellent lentil dish either as a main, side dish or more frequently as something a little different on a buffet or stand up party. ..
Meatless Shepherd's Pie
Excellent meat free Shepherds pie. For a more substantial dish, you can add / substitute things like pre-cooked tofu, lentils or mushrooms. ..
Pasta with Lentils
With this lentil and pasta dish you can substitute just about any type pasta for this recipe, instead of the spaghetti. ..
Potato, Lentil & Cheese Pie
Scrumptious lentil and potato based main course ..
Red Lentil and Noodle Soup
To my mind this is a very exciting soup, if it is actually possible to have an exciting soup. ..
Red Lentil Soup
The ever versatile lentil. Nice filling soup for all year round. ..
Spicy Lentil Soup
Spicy lentil soup recipe, making a nice thick soup. ..
Stir Fried Peas with Lentil Sprouts & Leeks
Easy veggie dish, serve with a little rice and any from a range of side / dipping sauces ..
Warm Wild Rice And Asparagus Salad
A wonderful warm salad recipe. ..
Yacon Curry
Yacon curry for the slow cooker. I'd grown Yacon for the first time, and come autumn had no idea what to do with it. This is the recipe that came together and is pretty good. Tame enough that the kids ate without complaint too. Yacon has a very mild ..