Popular Vegetarian Recipes
Vegetarian recipes, those looked at, requested and printed the most.
Sweet Roll Dough
A sweet bread dough that can be used in a wide variety of other recipes. ..
London Pudding
A fills-you-up pudding, very simple to make, tastes great, and thorouhly warming if you're out on a cold December evening. ..
Vegetarian Red Beans And Rice
A straight forward kidney bean recipe. A taste of New Orleans cooking. ..
Beetroot Casserole
Beetroot is never an obvious choice for anything other than being served pickled with a salad, but it makes for some excellent main meals, it's sweet and holds a lot of nutritional benefits. The colour is so rich too. ..
Carrot Soup 3
A healthy, filling carrot soup recipe ..
Breakfast scones
Something different in the morning? ..
Oatmeal Cookies
3 minutes recipe for Homemade Oatmeal Cookies. ..
Spinach and Cheese Squares
Super cheesy spinach and cheese squares for buffets and the like. ..
Vegetable Chow Mein
Noodles stir-fried with vegetables and classic Chinese flavourings such as garlic, ginger and sesame oil, make up this popular dish. Serve as a vegetarian main course. ..
Oriental Quorn with Leeks, Chilli & Ginger
Serve with noodles or rice. ..
Courgette and Nut Roast
The problem with most nut roasts is that they end up dry, hard to eat challenges that need loads of gravy. Not so with this nut roast recipe, the courgette and fruits ensure a moist, slightly firm nut roast packed full of flavour. ..
Cherry Cheesecake
Cheesecake is one of my all time favourite desserts. This is more work than a cheap packet mix, but you can be sure it is completely vegetarian, and you can also be sure the extra flavour makes the effort worthwhile. ..
Lentil Noodle soup
I didnt add the noodles and it was still great! Really,Really good recipe! ..
Pizzette
This is an easy to make appetizer that is always a hit. It is also a good recipe to make with your kids. ..
Macaroni and Cheese
A near perfect macaroni cheese recipe for vegetarians. ..
Nan (Afghan Bread)
A wonderful hand made loaf. ..
Leek Soup
One of my daughters favourite soup recipes. ..
Veggie Doughnuts
I could seriously go fat on doughnuts, and I fight the urge certainly on a monthly basis. When I relent, this is the recipe for veggie doughnuts that I use. Hmmmmmmmm. ..
Sugar Free FruitCake Cookies
Sugar and egg free recipe for fruitcake shorties. Think this makes it ideal for diabetics too. ..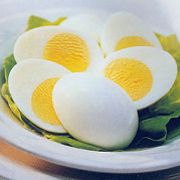 Perfect Hard Boiled Eggs
Perfect hard boiled eggs! No dark grey around the yolk, no rubbery textture. Perfect every time. How long do you boil an egg when you want it hard boiled .. 10 minutes, 5 minutes or not at all? ..
Thai Aubergine Sates
A wonderful thai recipe to kickm start any thai vegetarian meal. ..
American Black Bean Soup
Not always easy to find all the ingredients in the UK, but a spciy favourite when we can. ..
Potato & Cauliflower Curry
A real taste of India, with a genuine Indian curry recipe, suitable for vegetarians. ..
One bowl chocolate cake
Super simple chocolate cake recipe. ..
Amish Brown Sugar Pie
An apparently genuine Amish recipe, and I was told from Marsha Adams 'Cooking from Quilt Country'. ..
Egg Salad with Homemade Mayonnaise
Homemade mayonnaise can feel time-consuming, especially with the vigorous whisking it needs. But the taste test really does highlight the difference. ..
Blueberry Muffins
Large store-bought muffins can come packed with as much as a whopping 25 fat grams per muffin and 400 calories! In these muffins, replacing butter with a combination of buttermilk and applesauce reduced calories, fat and cholesterol. And, replacing a ..
Tomato Soup
Ever popular tomato soup ..
Bread Fritters
This is another oldy but goody. Use your favourite jam - you could also try a nice marmalade. This is another very simple recipe from a cookbook that belonged to my great-grandmother; 'The New Cookbook, a volume of tried, tested and proven recipes' ..
Celery Soup
An old celery soup, which calls for sago, which I guess is little used these days. ..